Iran Says Latest U.S. Sanctions Won't Stop Nuclear Talks
Golnar Motevalli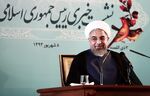 The latest U.S. sanctions against Iran won't directly affect talks with world powers to reach an agreement over the Islamic republic's nuclear program, President Hassan Rouhani said.
"They don't damage the talks but they do damage trust," Rouhani told a news conference in Tehran yesterday. "It would've been good if the Americans could have tried, with some better behavior, to improve this relationship for the future."
The U.S. on Aug. 29 penalized dozens of entities and individuals accused of expanding Iran's nuclear program and helping the Persian Gulf nation evade U.S. and international sanctions.
The penalties come as Iran and six major powers continue negotiations after they failed to clinch a long-term deal last month. Diplomats from the U.S., Iran, China, France, Germany, Russia and the U.K. gave themselves a deadline of Nov. 24 to find a solution to the decade-long dispute.
Talks continue under an interim deal reached last year in Geneva that has lifted some sanctions levied over Iran's nuclear work in exchange for caps on atomic activities.
Under the latest U.S. action, companies such as Iranian government airline Meraj Air and Iranian-owned Asia Bank are blocked from doing business with Americans and U.S. companies, the U.S. Treasury said in a statement.
More Difficult
Iranian Foreign Minister Mohammad Javad Zarif said the measures violate the spirit of an interim nuclear agreement reached in November 2013.
"Such measures are going to make the situation more difficult to reach an agreement," Zarif said in televised comments.
World powers and Israel accuse Iran of seeking to develop nuclear weapons. The Islamic state has repeatedly said that its program is for peaceful purposes.
Iran is "prepared to increase transparency" around its nuclear activities, Zarif said. Iranian officials, though, are "not prepared to accept any arbitrary red lines that people have to satisfy domestic constituencies," he said.
Before it's here, it's on the Bloomberg Terminal.
LEARN MORE