Coeure Says ECB Is Ready to Adjust Policy Direction
Stefan Riecher and Eleni Chrepa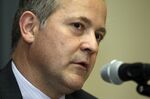 The European Central Bank is prepared to alter monetary policy further and boost funding to banks to encourage lending, Executive Board member Benoit Coeure said in Ta Nea newspaper today.
The Frankfurt-based institution "is ready to further adjust the direction of its monetary policy, if needed," Coeure said in an article carried by the Greek newspaper. The ECB "is ready to offer additional liquidity to the banks, on condition that the banks increase their credit to the real economy."
Coeure's comments come after ECB President Mario Draghi signaled last week that declining euro-area inflation expectations are pushing the central bank toward introducing quantitative easing. Inflation in the 18-nation currency bloc slowed to 0.3 percent in August, the lowest since 2009, compared with an ECB target for price growth of just under 2 percent. The central bank's Governing Council will meet to discuss policy options on Sept. 4 in Frankfurt.
"The main challenge that we will face in the years to come will be to prevent vulnerabilities in the euro area from surfacing anew," Coeure said. "On a national level, important economic and financial reforms are still needed in most European countries, including Greece."
Draghi hinted that the ECB is closer to embarking on large-scale asset purchases, a tool it has so far shunned, during an Aug. 22 speech at the Federal Reserve Bank of Kansas City's annual economic symposium in Jackson Hole, Wyoming.
The ECB in June introduced an unprecedented package of measures including a negative deposit rate and targeted long-term loans to banks to tackle the threat of deflation. Policy makers will use "all the available instruments needed to ensure price stability" and are "ready to adjust the policy stance further," Draghi said on Aug. 22.
Before it's here, it's on the Bloomberg Terminal.
LEARN MORE