Symantec Said to Narrow Down CEO Picks, With Brown Leading List
Jordan Robertson and Dina Bass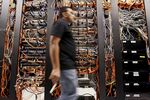 Symantec Corp. has narrowed its list of chief executive officer candidates to three, with interim chief Michael Brown as a leading contender for the role, according to people familiar with the matter.
The security-software maker's board, which has been searching for a CEO since Steve Bennett was fired in March, hasn't made any final decisions, said the people, who asked not to be identified because the process is private. The search process didn't yield a long list of applicants, they said. Brown has said he put himself into contention after initially saying he didn't want the job.
"After a rigorous search process we've narrowed the field down to a handful of strong candidates," Kristen Batch, a spokeswoman for Mountain View, California-based Symantec, said in an e-mailed statement yesterday. "We're very pleased with the caliber of talent who have expressed interest in the position and the board will be making its decision based on who they believe is best suited for the role."
Brown declined to comment.
Symantec has undergone a series of leadership changes as the company struggles with a personal-computer slump that has crimped sales of its core antivirus software. While Symantec helped pioneer anti-hacking technologies, it has increasingly found itself out of step with the security industry. Recent data breaches at Target Corp. and JPMorgan Chase & Co. have showcased the rapidly escalating threat from professional hackers that even advanced detection systems are unable to stop.
Soaring Spending
While spending on security technologies is rising -- it's projected to reach $84.5 billion in 2016 as companies pour more money into consulting services, outsourcing and encryption technologies, according to Gartner Inc. -- a lot of it is on products that Symantec doesn't make. Symantec's sales fell 3.3 percent last fiscal year to $6.68 billion.
Symantec has been under pressure to lift revenues and break apart its security and data-storage businesses. Bloomberg News reported in April that Symantec hired JPMorgan to explore strategic options and defend against activist shareholders.
The shares fell more than 20 percent in the last seven months of Bennett's tenure, as a wave of executive departures, staff cuts and restructurings hurt sales.
Since Brown was appointed to the interim role on March 20, Symantec's stock has gained 16.1 percent, reflecting investor enthusiasm for his efforts to move the company away from antivirus software and into more advanced-threat detection and data-breach forensics services, such as those offered by FireEye Inc.'s Mandiant division and Verizon Communications Inc.
Brown earlier this month told Bloomberg News that his thinking on the permanent role had shifted based on the opportunities he sees for Symantec. A final decision will be announced in September, he said at the time.
Brown, a Stanford University MBA, served as CEO of Quantum Corp. for seven years until 2002. He later joined the board of Veritas Software Corp., which Symantec bought for $10.2 billion in 2005. Brown has served on Symantec's board since then.
Before it's here, it's on the Bloomberg Terminal.
LEARN MORE