Nordic Renaissance Proves Half Right as Krona Loses
Anchalee Worrachate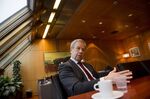 Banks from BNP Paribas SA to Citigroup Inc. predicted in July that there would be a Nordic- currency renaissance on bets Norway and Sweden had banished the specter of deflation. They were half right.
While Norway's krone is the best performer among 10 major peers in August, the Swedish krona is headed for a sixth straight monthly loss, Bloomberg Correlation-Weighted Indexes show. Strategists have pushed forecasts for the euro versus the krona to the highest in four years as Sweden's currency suffers the effects of a larger-than-forecast interest-rate cut in July.
"Now the market's contemplating further cuts," Steven Saywell, the global head of foreign-exchange strategy at BNP Paribas in London, said by telephone on Aug. 27. "The krone, on the other hand, has been driven by inflation surprising to the upside."
Swedish consumer prices were little changed in July, while Norway's inflation accelerated to 2.6 percent. That divergence, strategists say, will set the nations' policy makers on different paths, with Norway's Norges Bank toning down talk of rate reductions and the Swedish Riksbank weighing further easing.
Norway's krone has strengthened 2.3 percent this month against a group of developed-nation currencies, the biggest gain in the basket, while the krona slipped 0.8 percent.
Best Performer
The krone has beaten all of the 31 major currencies versus the euro this month, climbing 3.5 percent and reaching a more than two-month high of 8.1319 before trading 8.1361 per euro at 12:11 p.m. in New York. Sweden's krona was in 18th place in August, advancing 0.7 percent to 9.1715.
It all looked so different for Sweden's currency last month, when traders were encouraged by a June report that showed the annual inflation rate was positive for the first time in 2014. In July, inflation in Scandinavia's biggest economy slowed to almost zero.
Norway's underlying rate has, in contrast, reached a five-year high, exceeding both the central bank's 2.5 percent target and the 1.9 percent median estimate in a Bloomberg survey.
The split is mirrored in the wider economy. Norway's gross domestic product expanded 1.2 percent last quarter from the previous three months, twice the gain seen by economists. Sweden cut its 2014 GDP forecast for the second time in as many months on Aug. 24, to 1.9 percent from July's estimate of 2.5 percent.
Rates Warning
Speculation is building that Norway will refrain from acting on its June 19 warning that it may need to lower its 1.5 percent benchmark rate to boost investment. At the same time, strategists say Sweden is moving closer to cutting its 0.25 percent main rate, after a July 3 cut from 0.75 percent that was twice as big as economists forecast.
Reports today showed that while Norwegian retail sales fell by a more-than-estimated 1.5 percent in July, this month's unemployment rate dropped to 2.9 percent.
"The krone is doing extremely well because Norway's economic data surprised on the upside," Valentin Marinov, Citigroup's London-based head of European Group of 10 currency strategy, said by phone on Aug. 27. "We've got the opposite development in Sweden. We don't think Norges Bank will change its policy stance massively from here, but it will be hawkish when compared with the increasingly dovish Riksbank."
Citigroup, the world's biggest foreign-exchange trader, raised its 12-month forecast for Norway's krone on Aug. 18 to 8 per euro, from 8.1. It kept its estimate for the krona at 9.1. BNP Paribas hasn't changed its outlook in the past month, Saywell said, seeing the currencies at 7.8 and 8.9 by year-end.
Oil Investment
Any gains in Norway's currency may be limited by a downturn in the energy industry, with policy makers warning that oil companies will pare investment by 10 percent next year and SEB AB predicting a drop of 9 percent. Norges Bank Governor Oeystein Olsen has talked down the economy's strength to temper krone gains that risk making exports less competitive.
Strategists surveyed by Bloomberg are downgrading their outlook for both currencies, with the median of more than 30 estimates putting Norway's krone at 8.18 per euro by Dec. 31, weaker than a forecast of 8 as recently as July 14. SEB lowered its estimate to 8.15 from 8.05 as of June 1.
The krona is forecast to weaken to 9.18, from a prediction of 9 on July 16. The median prediction for Sweden's currency reached 9.2 per euro on Aug. 18, the weakest since May 2010.
Options traders see things differently, with the cost of contracts giving the right to sell Norway's currency over those allowing for purchases falling to 38 basis points, data compiled by Bloomberg show. That's about the smallest premium since June 2013 and down from a high for the year on a closing basis of 97 in February. A basis point is 0.01 percentage point.
Energy Supply
Norway's krone will get a further boost should tensions between Ukraine and Russia disrupt Europe's energy supply, according to Fabrizio Fiorini, chief investment officer of Milan-based investor Aletti Gestielle SGR SpA. Russia provides about 30 percent of the European Union's natural-gas needs.
"If the situation between Russia and Ukraine deteriorates, the Norwegian krone is likely to do well," Fiorini, whose firm oversees about $16 billion, said by phone on Aug. 25. "Should the EU's effort to diversify away from Russian energy continue even after tensions calm down, Norway will be a beneficiary."
Before it's here, it's on the Bloomberg Terminal.
LEARN MORE