Fancy New York Denny's Won't Stay Open All Night
by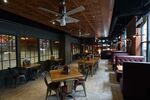 Denny's went upscale for its first Manhattan location. Just ahead of the Labor Day weekend, the all-American diner opened its first restaurant in the borough, and boy, does it look like anything but a Denny's. Designed by Joe Smerina of New York Design Architects, it features dark wood paneling, button-tufted leather seating, and copper-stamped ceilings.
The restaurant also has a full-service craft cocktail bar–the only other Denny's that has one is in Las Vegas–and offers a $300 Champagne brunch (it's just a Grand Slam pancake-and-eggs breakfast for two, with a bottle of Dom Pérignon and a high-five from the bartender), because that's what Financial District diners would expect of their local Denny's.

Denny's arrival hasn't been celebrated by all of its neighbors, including the condo board of the building, at 150 Nassau St. The group had launched a $10 million lawsuit against Denny's but dropped it after the restaurant agreed to close every night at midnight, a significant concession for a chain known to college students and truckers everywhere for its 24-hour service. The Tribeca Trib reported that the board also opposed the restaurant serving drinks early in the morning, because residents didn't want to attract morning tipplers to their doorsteps, so Denny's will open its bar at 11 a.m. on weekdays, 10 a.m. on weekends.
Before it's here, it's on the Bloomberg Terminal.
LEARN MORE