My Son's French Hospital Bill: Emergency Room + Doctor = $95
by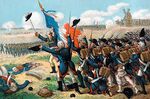 On vacation in France last month my 1-year-old son hurt his arm and, worried that he might have dislocated his shoulder, my wife and I took him to a doctor. Since it was a Sunday and none of the local doctors were in the office we saw no option but going to the hospital emergency room.
A few days ago we got the bill: 72.38 euros, or about $95. We saw a doctor after waiting for about an hour (we spent most of that in the playground across the street). No "facilities charge," or other special emergency fee. The doctor spent about 15 minutes with our son, determined that everything looked okay, and that our son should be fine within a day, as he was.
This is so unfamiliar to Americans that it's worthwhile to include an image of the bill below. It is unlikely that any American hospital emergency room has sent out a bill like this in many years. Yes, it is possible to get inexpensive medical care in the U.S. at urgent care centers, as one reader aptly pointed out when I posted this tidbit on Twitter. Some do charge less than a hundred dollars for a visit, or about the same as our bill from France.
In the U.S. with my current very good insurance I would pay a $100 copayment for an emergency visit; there might also be a separate copayment for a doctor. That's if the hospital is in-network (all the major hospitals in New York are). Otherwise the bill would be much, much bigger. If I lived in France and was covered by their national insurance program, I wouldn't even be getting a 72 euro bill. I would pay nothing.
Would I have thought of finding one of those less-expensive urgent care centers as a tourist in the U.S., with a child I was afraid was injured? I don't know. I'm glad that with my inadequate French I did not have to confront an American-style health care menu of "Well, if you go here it will cost $100, but there it will be $2,000." In the U.S. I have excellent insurance. I'm not sure if it would cover the bill from France. I think it would fall into my out-of-network deductible. And frankly, I will probably just pay it rather than trying to navigate through my U.S. insurance rules.
The only issue here: It doesn't seem like the French hospital takes credit cards, and it's a little unwieldy for them to cash a U.S. check. So I'm not sure how to most efficiently pay the hospital its money. That's one thing that U.S. hospitals make easy.

Before it's here, it's on the Bloomberg Terminal.
LEARN MORE