Mississippi Judge Dismisses Tea Party Cochran Challenge
Annie Linskey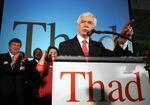 Mississippi Judge Hollis McGehee yesterday dismissed state Senator Chris McDaniel's challenge to the state's Republican primary results, easing the path for U.S. Senator Thad Cochran to win a seventh term.
McDaniel lost a June 24 runoff to Cochran by fewer than 8,000 votes out of more than 375,000 cast in one of the year's most contentious primaries. McDaniel sued, alleging widespread voter fraud that included thousands of Democrats casting ballots in the runoff after they participated in their own party's June 3 primary.
Cochran's lawyers successfully argued that McDaniel filed his suit after the required 20-day window for contesting the runoff's outcome.
"When you don't meet that requirement, you're not entitled to come in the door with a lawsuit," said McGehee, who issued his decision verbally from the Harrison County courthouse in Gulfport, Mississippi.
Noel Fritsch, a spokesman for McDaniel, said yesterday an appeal of the ruling is being considered. "Chris will take the weekend to take stock in the legal options on the table and will make an announcement early next week," Fritsch said in an e-mailed statement.
Cochran, 76, faces Democrat Travis Childers, 56, in the November general election. The Washington-based nonpartisan Cook Political report rates Cochran the favorite due to Mississippi's Republican tilt.
The Cochran-McDaniel runoff was set up after neither won more than 50 percent of the vote in a June 3 primary. McDaniel ran slightly ahead of Cochran in that race, in which a third candidate got 1.5 percent of the vote.
In the runoff campaign Cochran focused on wooing black Democrats to support him in that contest, which they were eligible to do under state law as long as they hadn't voted in their own party's June 3 primary.
McDaniel, 42, was endorsed by Tea Party favorite Sarah Palin, the former governor of Alaska, as well as Washington-based groups aligned with the limited-government movement, including the Club for Growth, FreedomWorks and the Madison Project.
Before it's here, it's on the Bloomberg Terminal.
LEARN MORE