German Bonds Advance for Eighth Month in Longest Run Since 2005
David Goodman and Lukanyo Mnyanda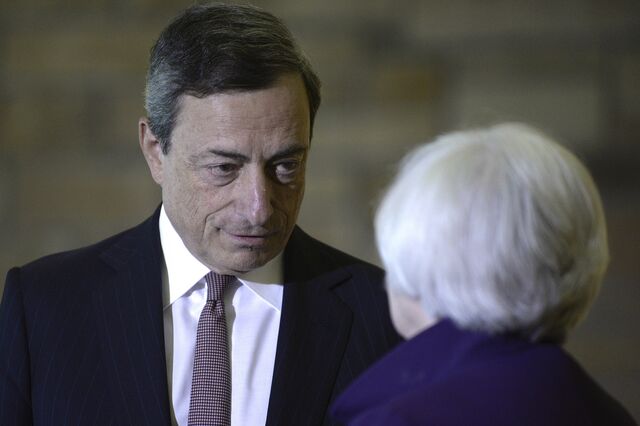 Germany's 10-year bonds advanced for an eighth month, the longest run of gains since January 2005, amid speculation the European Central Bank will add further stimulus to boost the currency bloc's economy.
Yields on the region's benchmark securities were little changed today as inflation in the euro area slowed to the least in almost five years this month. ECB President Mario Draghi said on Aug. 22 that bets on price increases "exhibited significant declines," and policy makers are "ready to adjust our policy stance further." A gauge of overnight borrowing costs in euros fell to a negative level for the first time yesterday. ECB officials next meet on Sept. 4.
"Draghi has made a speech which opens up the gate for speculation in every monetary-policy dimension," Marius Daheim, a Munich-based senior fixed-income strategist at Bayerische Landesbank said, speaking from Frankfurt. "The market is interpreting Draghi as if he's put every option on the table. That's a very powerful tool and it will keep a lid on yields."
German 10-year yields were at 0.89 percent as of 4:25 p.m. London time after dropping to a record 0.866 percent yesterday. The price of the 1.5 percent bund due in May 2024 was 105.67 percent of face value. The rate has fallen 27 basis points this month, the biggest decline since January.
Daheim predicts bund rates will fall to 0.8 percent in the next three months and climb to 1.2 percent in the next year. The median of economist and analyst predictions compiled by Bloomberg is for the yield to rise to 1.45 percent by year-end and 1.80 percent in the third quarter of 2015.
Inflation Data
Consumer prices in the euro area rose 0.3 percent in August from a year earlier after a 0.4 percent increase in July, the European Union's statistics office in Luxembourg said today. That's the weakest since October 2009 and in line with the median forecast in a Bloomberg News survey of analysts. The ECB targets a rate of close to 2 percent.
ECB Governing Council member Ewald Nowotny suggested the central bank may cut its economic forecast when it presents an updated estimate next week.
"It's no secret that we are seeing somewhat of a downturn in the economy," Nowotny told reporters in Alpbach, Austria, late yesterday. "Germany is no longer able to be a locomotive for growth."
The euro overnight index average, or Eonia, fell to minus 0.004 percent yesterday, compared with 0.011 percent the previous day. Yields on German one- and two and three-year securities were also below zero, meaning investors holding the debt until it matures will receive less back than they paid to buy it.
Deposit Rate
The ECB lowered its deposit rate to minus 0.1 percent on June 5 in an attempt to boost the flow of cash into the economy and stave off the threat of deflation.
Italian 10-year yields were little changed at 2.44 percent after climbing five basis points yesterday. The rate on similar-maturity Spanish bonds was little changed at 2.23 percent, down 15 basis points since Aug. 22.
Volatility on Austrian bonds was the highest in euro-area markets, followed by those of Portugal and Belgium, according to measures of 10-year debt, the yield spread between two- and 10-year securities and credit-default swaps.
Austria's 10-year bonds halted a five-day gain, with the yield rising less than one basis point to 1.12 percent. The rate dropped 12 basis points this week, and reached an all-time low 1.097 percent yesterday.
Euro-area government securities returned 1.9 percent this month through yesterday, set for an eighth successive advance, Bloomberg World Bond Indexes show. Spain's have earned 2.3 percent in August, with Italy's gaining 1.6 percent and Germany's 1.8 percent.
Before it's here, it's on the Bloomberg Terminal.
LEARN MORE