Brazil Goes Into Recession for First Time in Over 5 Years
Matthew Malinowski and Raymond Colitt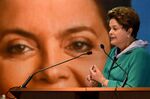 Brazil's economy slipped into recession for the first time in more than five years as investments contracted on lower confidence before the October presidential election.
Gross domestic product shrank by 0.6 percent in the April-June period from the previous three months, after contracting a revised 0.2 percent in the first quarter, the national statistics agency said today in Rio de Janeiro. The contraction in the second quarter was bigger than the median estimate of 42 economists surveyed by Bloomberg, who expected a 0.4 percent drop.
President Dilma Rousseff has attempted to revive growth with tax cuts, billions of dollars in credit and higher social spending. With inflation hovering around the upper limit of the target range, consumer and business confidence eroded in the run-up to the first round vote on Oct. 5. It's the first time the economy contracted for two consecutive quarters since the aftermath of the global financial crisis in 2008.
"This is the last thing that Dilma would have wanted, today's data is the worst-case outcome for her," Neil Shearing, chief emerging markets economist at Capital Economics Ltd, said by phone from London. "This is clearly going to put pressure on the central bank to loosen policy in order to support growth."
Swap rates maturing in January 2017 fell six basis points, or 0.06 percentage point, to 11.2 percent at 12:30 p.m. local time. The real rose 0.2 percent to 2.2379 per U.S. dollar.
Investment Drop
Investments contracted 5.3 percent in the second quarter from the previous three months, accounting for the bulk of the contraction in gross domestic product, the national statistics agency said today. Family consumption, still sustained by increases in wages, rose 0.3 percent.
Shearing cut his 2014 growth forecast to 0.2 percent from 1.5 percent after the GDP report.
Price controls, currency interventions and regulatory changes in the energy and other industries have pushed investors to the sidelines, Mauro Rochlin, a professor of economics at the Getulio Vargas Foundation, a Brazilian business school and research institute, said by phone.
"Excess government meddling in the economy has created a very bad business environment," he said.
Above Junk
Standard & Poor's in March lowered its debt rating on Brazil by one level to BBB-, a step above junk, on slower economic growth and what it said were deteriorating fiscal accounts. The public sector posted a 32.7 billion-real nominal budget deficit in July, the largest since December 2008, the central bank said in a report today.
Finance Minister Guido Mantega said today that growth would fall short of the government's 1.8 percent target and that it would be "difficult" to reach its primary budget surplus target of 1.9 percent of GDP. Yesterday he said the economy will grow 3 percent next year as the government tightens its budget, allowing the central bank to ease the "severe" monetary policy it implemented to slow inflation.
Jose Francisco de Lima Goncalves, chief economist at Banco Fator SA, said the economy won't grow more than 1 percent next year.
"It will take time to see an economic recovery," Lima Goncalves said in a phone interview from Sao Paulo. "The infrastructure bottlenecks won't disappear. The consumption cycle is running out."
Highest Level
The central bank on July 16 kept the benchmark interest rate unchanged at 11 percent for the second straight meeting after lifting it by 375 basis points in the year through April. Brazil has the highest benchmark borrowing costs among rate-setting nations in the Group of 20.
Policy makers signaled plans to hold the key rate at the highest level in more than two years as inflation persists above the mid-point of its target even as demand eases.
Rousseff's support fell before the elections as other candidates attack her economic policies, according to two polls released this week.
Former Environment Minister Marina Silva would win 45 percent of voters' support in an Oct. 26 runoff against Rousseff, who would garner 36 percent, according to an Ibope poll published on Aug. 26. The survey questioned 2,506 people on Aug. 23-25 and had a margin of error of plus or minus two percentage points.
Silva has 43.7 percent support in the second round, 5.9 percentage points more than Rousseff in an Aug. 21-24 MDA survey published Aug. 27, which has a margin of error of plus or minus 2.2 percentage points.
Rousseff doesn't have the votes needed to avert a runoff, according to both polls.
(An earlier version of this story corrected economist Shearing's GDP forecast.)
Before it's here, it's on the Bloomberg Terminal.
LEARN MORE