Why Bo Jackson Won't Stop Suing a Small Arizona Meat Packager
By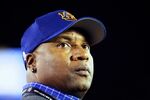 Bo Jackson became a superstar playing both pro football and baseball and was the ubiquitous pitchman in Nike ads in the late 1980s and early '90s. These days, the former Oakland Raider is mired in a legal battle with a business partner who Jackson says used company money for personal expenses and paid large sums to her husband and stepson.
It started with a much less glamorous endorsement. Seven years after Jackson ended his athletic career—batting .279 in 75 games with the team then known, in 1994, as the California Angels—he joined Valerie LittleChief to found a meat packaging company in Scottsdale, Ariz., called N'Genuity.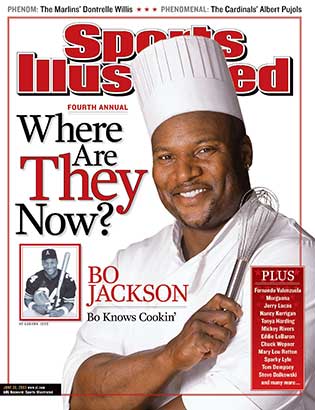 The pair sold bulk orders of Salisbury steak and Chicken Cordon Bleu to casinos, the U.S military, and food-service companies. Jackson got a 49 percent stake in exchange for allowing N'Genuity to use his image for such brands as Bo Burgers and Bo Jackson Signature Foods.
LittleChief ran the day-to-day business with her husband. As a member of the Kiowa Tribe of Oklahoma, she obtained status as a Native American-owned business from the Small Business Administration, which helped the company compete for government contracts.
The venture helped land Jackson on the cover of Sports Illustrated's "Where Are They Now" issue in 2003 ("Bo Knows Cookin'"). Sales reached $26.2 million in 2008, but profit was lean: $115,000, according to court documents.
The next year, Jackson sued N'Genuity, LittleChief, and some related parties, accusing his partner of siphoning profit and seeking to dilute his ownership. Jackson has been suing LittleChief ever since. This year alone, Jackson has filed actions against LittleChief, her husband, her stepson, and N'Genuity's accountant. Bo, clearly, knows litigation.
In the most recent suit, Jackson's lawyers moved to block N'Genuity's petition for Chapter 11 bankruptcy in U.S. District Court in Arizona. "It is abundantly clear that N'Genuity filed this bankruptcy proceeding solely to avoid paying Jackson," they wrote in a brief filed last month.
Neither LittleChief nor Jackson's attorney, Warren Stapleton, responded to e-mails or phone messages requesting comment. Still, many details of the case, which made news in Arizona this week, can be found in a trail of legal filings that have remained mostly out of the public eye for the past five years.
Jackson's initial suit sought $130,000 in damages and an injunction to prevent LittleChief from diluting his holdings. N'Genuity countered Jackson's suit with charges that Jackson had harmed the company by appearing in an ad for fast-food chain Chick-fil-A. The company also accused him of having a romantic affair with the wife of an executive at a company that was one of N'Genuity's largest customers.
The court sided with Jackson, finding that N'Genuity had paid hundreds of thousands of dollars to a nanny for LittleChief's children and transferred six-figure sums from N'Genuity to LittleChief's personal accounts. "Cost of bacon and chicken parts were favorite hiding places," according to a 2011 opinion issued by Jeffrey Cole, a magistrate judge for the U.S. District Court in Illinois.
In October 2011, Cole granted preliminary injunctions preventing N'Genuity from pursuing a merger or paying personal expenses to LittleChief or her family. Cole also granted Jackson's request for a temporary receiver to take custody of the company. Shortly thereafter, N'Genuity filed Chapter 11 in Arizona for the first time.
The next year, N'Genuity had $21.1 million in revenue, according to Jackson's legal filings. The same year, it was the seventh-biggest food supplier to Defense Logistics Agency Troop Support, which provides food, clothing, and other goods to the U.S. military, according to Government Food Service, a trade publication. That put the company behind Tyson Foods and Sara Lee and ahead of Heinz and PepsiCo. Meanwhile, the company's no longer leaning on Jackson's star power for marketing. Once prominent on the company's homepage, Jackson is now unmentioned.
The litigation, meanwhile, has settled into a pattern. N'Genuity says Jackson's lawsuits have forced it into bankruptcy. Jackson says N'Genuity is using bankruptcy to avoid paying him money owed, including a $500,000 judgment awarded by the Arizona court in 2013. Jackson's lawyers say N'Genuity can expect more of the same. They wrote in an Aug. 8 filing: "If N'Genuity should have learned anything it was that Jackson would be resolute" in pursuing his claims.
Before it's here, it's on the Bloomberg Terminal.
LEARN MORE