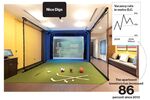 Mandy Johnson and her roommate thought they were priced out of Virginia Square Towers, a new luxury apartment building across the Potomac River from Washington, where for about $3,000 a month they would enjoy amenities such as a pool, a game room with a pool table, video game consoles, and a golf simulator. Less than 24 hours after declining to sign a lease in June, Johnson got an e-mail from a leasing manager offering two months' free rent on a 14-month contract. The $450-a-month discount clinched the deal for Johnson, 28, who works at a nonprofit that gives scholarships to military families. "We are able to have this brand-new apartment for the same price as one in older buildings, so we went for the shiny object," she says.
An oversupply of construction in and around the nation's capital is giving young professionals such as Johnson the upper hand in negotiations with landlords. Haendel St. Juste, a Morgan Stanley analyst, calls Washington "the weakest apartment market in the country right now." About three years ago the metro area had one of the lowest vacancy rates in the nation, at 3.4 percent for Class A, or high-end, apartments; the rate stood at 4.1 percent at midyear.
Rents in the D.C. metro area, which includes the Maryland and Virginia suburbs, fell 0.1 percent in the second quarter of 2014, compared with an average increase of 3.3 percent nationwide, according to apartment research company Axiometrics. That follows a big jump in inventory, with 14,840 newly built apartments coming to market this year, an 86 percent increase from 2013, data from the Dallas-based firm show.
The Washington building boom got under way in 2010. Developers began work on 5,186 apartments that year, according to Axiometrics, confident that the area's strong job growth would help fill them. The metro area sprouted residential towers featuring sun decks with grill stations, communal TV lounges, and free breakfasts and fitness classes. The rapid increase in supply wasn't mirrored at the low end of the housing market: From 2000 to 2010, Washington lost half of its low-cost rental units, those with monthly rent and utility expenses of less than $750, according to a report from the DC Fiscal Policy Institute.
There were 25,481 Class A apartments on the market or under construction midyear, according to Delta Associates. The average monthly rent in central Washington, with some of the city's most expensive neighborhoods, was $2,847 at the end of June.
Investors in real estate investment trusts that own Washington properties are bracing for a downturn that could stretch into 2016. Equity Residential, the country's largest publicly traded apartment landlord, projects revenue for its properties in the area will fall 1 percent this year, Chief Operating Officer David Santee said in July on a call with investors. In contrast, the REIT's holdings in cities including Seattle, San Francisco, and Denver, where there are strong job markets, are expected to produce more than 5 percent revenue growth, according to the Chicago-based company.
Renters at the upper end have benefited, with landlords offering a free month's rent and other concessions such as scrapping fees for parking or pets, says Rick Gersten, chief executive officer of Urban Igloo, an apartment finder service. The units will likely fill up eventually. U.S. household formation is expected to pick up again after falling to its lowest level after the recession since records started being kept after World War II. "We're at the point of the recovery when young adults are starting to move out of their parents' homes," wrote Jed Kolko, chief economist at Trulia, in an e-mail. The majority will rent before buying, he added.
Johnson, who moved into her two-bedroom apartment in Alexandria in July, says she'll probably have to move again if her rent is raised back to market rate at the end of her lease. Still, she's wagering the flurry of development will give her room to negotiate. "I've heard if you're a good renter and always pay on time, you can finagle a little bit and tell them, 'We'll stay here if you leave us at the same price,' " says Johnson. "I hate moving, but there's so much being built around us."
Before it's here, it's on the Bloomberg Terminal.
LEARN MORE