These Designers Are Betting Men and Women Will Buy the Exact Same Outfits
by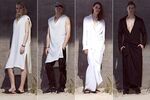 The difference between women's wear and menswear is almost meaningless, so long as you're a woman: boyfriend jeans, slouchy button downs, and loafers are all fair game. The reverse isn't quite so easy. Try to put a man -- even a famous pop star -- into harem pants and you're going to get some push-back.
But Scott Studenberg and John Targon think they have have found a way to sell dress-like apparel to men with their "ambisexual" clothing line Baja East, whose first runway show will take place on September 6th during New York Fashion Week.
The first rule to getting men into ambisexual apparel? Don't call it a dress, call it "tunic" or a "maxi." The second? Make it out of very expensive materials, and set the price accordingly. (Prices for Baja East's maxi can be upwards of $2,295, depending on the fabric.)
Fashion-forward men have long experimented with women's clothing. The real question is whether or not sartorially conservative men can be drawn out of their shell and into what their grandmother might call a muumuu.
"We're definitely seeing guys go for what might have been considered risky sartorial choices," says Targon. "They're just putting them on over pants."
Studenberg agrees. "You have these guys who aren't in the office but they've got high-level jobs, they make a lot of money, and they don't always want to wear a suit," he says. "It's less about gender, and more about feeling good."
Both men say that it's often a question of context. "Guys at Barneys might not know we have the same exact leather pants hanging in the women's section," says Targon. "So they're completely unfazed by them."
It's also a question of how the clothes are constructed. Shirts are tailored with a drop-shoulder, so that they drape in a way that's neither masculine nor feminine. Woven hoodies are loose and boxy, and pants are slouchy rather than fitted.
"The idea of ambisexual clothing was really an afterthought," says Studenberg. "The initial concept was simply super lux fabric that's easy to wear-- nothing is fitted or tight."
All of this is seems pretty reasonable -- relaxed fit, good material, thoughtful tailoring -- but then we return to the moment where a man on a shopping trip shells out several thousand dollars for a dress. Does it actually happen?
"We found out Steven Tyler bought the tunic," says Studenberg. And as for non-rock stars? "It's not hundreds of men buying dresses and skirts, but we definitely do have clients out there who buy them," says Targon. "People buy things because they're cool, and because they're comfortable. That's really it."
Before it's here, it's on the Bloomberg Terminal.
LEARN MORE