The Family Dollar Takeover Fight: What's at Stake
Why rival discounters are vying for control of Family Dollar Stores
By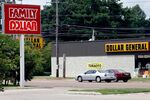 In a season marked by heavy merger-and-acquisition activity, few takeover contests have matched the intensity of the bidding for Family Dollar Stores. While it's not quite Game of Thrones, the battle between Dollar General and Dollar Tree for control of the North Carolina-based discounter has the kind of intrigue and promise of riches that have turned the saga of the warring houses of the Seven Kingdoms into must-see television.
At issue is who will dominate lower-income and small-town discount retailing in the U.S. now that Wal-Mart Stores has moved more upscale. "It's one of the best opportunities in retail," says Edward Jones analyst Brian Yarbrough. "There are a lot of small, rural markets that can't support a giant Target or Wal-Mart," whose largest stores can exceed 170,000 square feet, "but can support a 7,500-square-foot dollar store."
To snare the low-end discounting crown, Dollar Tree in late July struck a deal to buy Family Dollar for $9.2 billion. By combining Family Dollar's 8,200 locations with its own roughly 5,000 stores, Dollar Tree would have the largest number of discount outlets in the U.S. The tieup also would help Dollar Tree, the only one of the three that actually sells all its merchandise for a buck or less, to quickly become a major retailer offering goods at all price points.
Dollar General, which had been negotiating its own buyout offer for Family Dollar when Dollar Tree's surprise takeover was announced, refuses to walk away quietly. Instead, the 11,300-store retailer on Aug. 18 tried to scuttle the deal by making a $9.7 billion counterbid for Family Dollar. The spoiler also says it'll pay the $305 million breakup fee that would be due Dollar Tree if Family Dollar accepts the higher offer.

Family Dollar is a surprising target. The No. 2 U.S. discounter by number of stores (behind Dollar General) with revenue of $10.4 billion in the past 12 months, the chain has struggled with declining sales at stores open for more than 13 months because its prices have become too high for many cash-pinched customers. To counter that, Family Dollar lowered prices on about 1,000 items this year. Still, there's potential to turn things around in a merger, says Yarbrough.
Neither Dollar Tree nor Dollar General would be eager to compete against whichever of them does manage to bag Family Dollar, since the resulting behemoth would have more buying clout with suppliers. That would help the winner keep prices low, a key selling point for this type of retailer. "Dollar stores have a valid place, especially after the recession," says Wedbush Securities analyst Joan Storms. "People that traded down, they aren't trading back up."
Representatives for Family Dollar, Dollar Tree, and Dollar General declined to comment for this story.
Most analysts say a Dollar General-Family Dollar merger makes the most sense, as both stock similar goods—housewares, apparel, and food and other consumables—and sell them at a wide range of prices. Yet there's concern that combining two such similar discounters into a 19,584-outlet chain would raise antitrust questions. Dollar General says it's prepared to sell as many as 700 stores to appease regulators. "We don't believe the antitrust is the matter of concern," Chief Executive Officer Richard Dreiling told investors on Aug. 18.
But on Aug. 21, Family Dollar rejected Dollar General's bid "on the basis of antitrust regulatory considerations" and reaffirmed its commitment to the deal with Dollar Tree. Activist investor Carl Icahn, who holds a 3.6 percent stake in Family Dollar and helped pressure the retailer to put itself on the block this summer, isn't backing off. He suggested on his blog that Family Dollar CEO Howard Levine may have been cool to striking a deal with anyone other than Dollar Tree because that retailer had said he would have a management role in the merged company. "It seems obvious that, in a Dollar General/Family Dollar merger, Levine would not have any future role," Icahn said. However, Nelson Peltz's Trian Fund Management, which has a 7.3 percent stake in Family Dollar, has defended the Dollar Tree matchup based on antitrust concerns.
Family Dollar might still be willing to reconsider Dollar General's higher offer if the suitor commits in advance to completing its deal even if federal antitrust regulators require that far more stores be divested, people familiar with the matter who were not authorized to comment publicly told Bloomberg News.
Given the strategic advantages for both suitors, many on Wall Street think the courtship is far from settled. Edward Jones's Yarbrough says both bidders have solid management teams and can be successful, but "the deal will be more beneficial to Dollar General's earnings," which should enjoy greater savings because of its similar business model. And if Family Dollar is looking for more money, "Dollar General has more dry powder." But you can bet it won't be in dollar bills.
Before it's here, it's on the Bloomberg Terminal.
LEARN MORE