Tattooed Irish-American Chef Seamus Mullen Brings Spanish Flair to London
by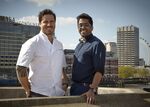 The chef behind hit New York restaurant Tertulia looks more like someone you'd encounter in a Dublin street brawl than a guy who spends his time infusing homemade cheese with lemon peel, contemplating the relative nuttiness of pine mushrooms, and telling frilly things to reporters like:
"My food is about celebrating beautiful, honest ingredients and letting them shine."
I'm trying to reconcile this statement with the three-quarter length tattoos on each of Seamus Mullen's muscle-thick arm, which seem to match so perfectly with his stories of being bitten by a deadly vampire bat in Venezuela, shattering one of his legs in a Brooklyn Bridge motorcycle accident, and subsequently recovering to cycle 360 miles across Italy. "When I go at something, I go pretty hard. I like to push myself," says the 40-year old nonchalantly.
That's the thing about Mullen. His gentle, empathetic persona is trapped in a daredevil's body, and it makes him - and his food - refreshingly difficult to pigeonhole.
This is perhaps why the Irish-American Mullen landed the coveted title of 'Culinary Director' for Sea Containers - the new dockside restaurant at the highly anticipated Mondrian London hotel, opening September 30th on the South Bank.
Welcome Challenge
In New York, Mullen has made a name for himself reinventing rustic Spanish cuisine at his restaurants Tertulia and El Colmado.
But in London, for the Mondrian, he's expected to "exemplify the marriage of Britain and America." Never mind that it's a new cuisine for him and in a new country -- and the neighbors have names like Gordon Ramsay, Jamie Oliver and Lee Westcott (rising star chef at the Typing Room).
Mullen isn't fazed when I mention these names. On the contrary, he's confident his "own voice" will be welcome in a strange land, and what's more, the prospect excites him.
"I see London as a unique opportunity to cook outside of the culinary idiom of New York, and truly explore other areas of Mediterranean cooking."
That and he'll have help. Executive chef Luke Rayment, whose London pedigree is nothing to slouch at -- he worked as head chef at Gordon Ramsay´s Claridge´s restaurant -- has signed on at Sea Containers to manage the day to day operation, and help Mullen "understand what Londoners want when they go out to dinner."
After a year of close collaboration on the Sea Containers menu, Rayment and Mullen have decided Londoners want something that's anti-stuffy, anti-stiff-upper lip. The new accessible restaurant is designed to "democratize delicious, high-quality food" and will be presented in a relaxed, communal table atmosphere, with small plates and family style dishes.
Mullen says it's his 'breaking bread' model. "Dining out is a social experience," he says. "It's not -- this is mine, that´s yours, and never the twain shall meet. It's about conversation."
The Menu
For Mullen, food should be as culturally visceral as music and language. At least that's the goal. So, rather than ditching his vibrant, loud Spanish style for an idea of what 'British food' is, he's playing to his strong suit. "I'll be cooking in the language of Spanish food with British and Mediterranean ingredients."
The menu's early dishes capture this concept, each colorful conversation pieces in their own right. Here, a preview of Mullen's favorites:
House-made Ricotta: Home-made cheese is perfumed with herbs, garlic and lemon peel, accented by a bright pop of green sugar snap peas, garnished with mint and red chilies to "add a little heat," and all served on grilled country bread.
Shaved Mushroom Salad: A compilation of humble button mushrooms, toasted pine nuts, and brown butter vinaigrette, "which, on the nose, is very similar to hazelnut" – is topped with snowy-grated Idiazábal cheese (from Spain.)
Double Cut Heritage Pork Chop: This cut is sourced from local English farmers to create a "gentle, quirky firebox" dish served with grilled peach vinaigrette. (Mullen's hoping his popular habit of smoking large slabs of meat in open fire grills will translate in London.)
If this menu snapshot seems neither British nor American to you, it's probably because Mullen is so bothered by labels that asking him to define his menu is like sentencing him to an eternity of making only mac & cheese.
"This is not a British restaurant. I'm not going to be interpreting bubble and squeak and shepherd's pie," Mullen says, reproachfully. So, don't expect the Spanish Inquisition, then. And you're not getting any Yorkshire Pudd. But, please do politely pass the smoky, shareable, democratized pork.
Before it's here, it's on the Bloomberg Terminal.
LEARN MORE