Stocks Overvalued? Who Cares?
Shiller is sending up warning flares. It may be best to ignore him
by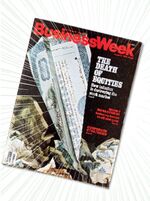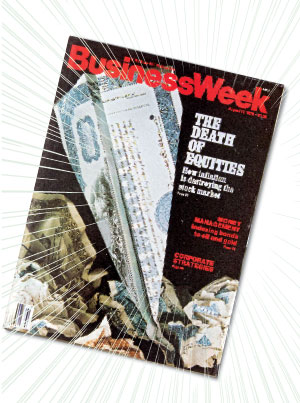 The milestone came at 10:10 a.m. on Aug. 25: The Standard & Poor's 500-stock index edged above 2,000 for the first time, helping to push the value of equities worldwide to a record $66 trillion. The benchmark has tripled since March 2009, climbing at a blistering pace that has seen 65 calendar months elapse without a 10 percent loss in any of them.
For the average investor, it's a dizzying peak from which to contemplate the eternal question: buy or sell? Arguing for the bulls on Aug. 19, Barry Bannister, the chief equity strategist at Stifel, dramatically raised his prediction of where the S&P will end the year. He had been forecasting a modest loss. Now he envisions a 15 percent climb to 2,300 as the economy picks up steam. "People are getting jobs, getting paid, becoming solvent," Bannister says. On the bearish side, no less an authority than Yale University professor Robert Shiller, one of the few economists to have warned about the housing bubble, said in an Aug. 16 New York Times piece that his influential Shiller price-earnings ratio has reached a "worrisome level," one not seen since 1929, 1999, and 2007—years that are synonymous with bursting bubbles.
Just because there are two compelling sides to the argument doesn't mean investors have to choose one. Decades of market history make a persuasive case that the best course of action may be to take no action at all.
As Peter Lynch, the renowned stockpicker for Fidelity Investments' Magellan Fund until 1990, once put it, "Far more money has been lost by investors preparing for corrections, or trying to anticipate corrections, than has been lost in corrections themselves." Brad DeLong, a professor of economics at the University of California at Berkeley, came to much the same conclusion in an Aug. 17 response to Shiller on his blog. Investors who were walloped by the 1929 crash, he calculated, would have seen their losses improve to an annual gain of 3.3 percent, on average, if they'd simply stood pat for at least a decade. Investors who held the S&P 500 from the 1999 peak until today have seen a 2.7 percent average annual return; for the past seven years, a period starting with the 2007 market top, the figure is 5.2 percent. "Not too shabby," DeLong writes.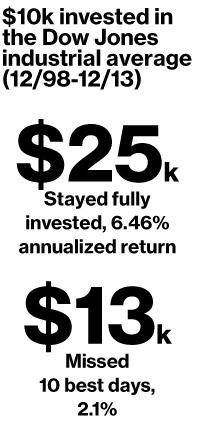 The point is not just that rallies tend to follow crashes. It's that getting caught in an especially bad downturn—the thing so many investors worry about today—really isn't so bad if you're in the game for the long term, with a time horizon of a decade or more. Almost every 10-year period, DeLong finds, has produced gains.
Stocks are inherently risky—the S&P has lost more than 5 percent in a calendar month 33 times during the past 30 years. But buy-and-hold advocates have long pointed out the risk of missing rallies while trying to avoid drops. Putnam Investments published a report in January showing that investors who missed out on the market's 10 best days over the last 15 years would have had annualized gains of only 2.1 percent, compared with almost 6.5 percent for a portfolio that stayed fully invested. That's a difference of $11,911 for a starting stake of $10,000. The report also notes that "seven of the Dow's 10 best days since 1996 occurred within a year of the financial crisis triggered by the Lehman Brothers collapse."
Shiller, who shared the Nobel prize in economics in 2013 for his study of asset prices, has cautioned that his ratio is a general barometer and not a precise signal for when to buy and sell. Also known as CAPE, for cyclically adjusted price-earnings, it measures profits over a 10-year period, typically spanning one or more business cycles, to give a better picture of corporate health than any one-year snapshot. The historical CAPE average is 16.6; at its current 26.4, the metric suggests that returns from stocks will be lower in the coming years than investors have enjoyed since the crisis.
Even if that's true, a portfolio with a large exposure to equities remains essentially the only option for people with a 10-year or longer horizon, such as those planning for retirement, says Fran Kinniry, a principal in Vanguard's investment strategy group. Alternatives such as high-quality bonds and CDs will not offer sufficient growth to produce enough income for a retiree to live on. "Bonds might have a 10-year return of 2.5 or 3 percent," Kinniry says. "Even judging from CAPE today, stocks would be around 6, 7, 8 percent—significantly more than bonds, significantly more than inflation."
Vanguard recently became the world's second-largest money manager, overseeing $2.93 trillion, behind BlackRock with $4.59 trillion. Both asset managers have been propelled by the growth of target-date funds, which automatically change investors' exposure to equities and fixed income as they age. In his annual letter to Berkshire Hathaway shareholders this year, Chairman Warren Buffett said it's not a bad idea for investors to put 10 percent of their holdings into short-term government bonds and 90 percent in an S&P index fund and "never to sell when the news is bad."
"There's a fair amount of research that indicates that most retirement investors do not have the ability to time the market," says Chip Castille, head of the U.S. retirement group at BlackRock. "And missing the runs, missing those important days or weeks, can meaningfully affect the long-term outcome."
"I think people misuse quantitative or statistical information," Vanguard's Kinniry says. "A lot of investors are all in or all out. I'd caution investors, if they want to take a little bit on or off their allocation to make them feel better, that's fine, but don't make major deviations because of these statistical measures."
Before it's here, it's on the Bloomberg Terminal.
LEARN MORE