Shop Class Makes a Comeback
Choosing a vocational path can still lead to a solid job
By and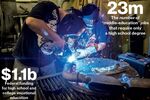 Two years out of high school, Evan Fischbach is earning $40,000 a year. His secret: shop class.
Fischbach, 19, wanted to work on cars ever since he took an automotive class in his junior year of high school in Saline, Mich. His college-educated parents wondered if he was aiming too low. When Fischbach was still a junior, a local auto dealer desperate for mechanics hired him as an apprentice in the service bay. Now he's earning about three times as much as the average 19-year-old high school grad and slightly more than the national median for all working adults, according to the Bureau of Labor Statistics.
"Friends weren't interested in auto shop when I suggested it, and now I think they wished they had tried it," says Fischbach, who works at the LaFontaine Chrysler-Dodge-Jeep-Ram dealership. "I'm not rich, but I'm not hurting either."
With schools focused on preparing kids for college, shop class has gone the way of stenography courses in much of the U.S. Yet now companies as diverse as Toyota Motor, Siemens, and IBM are pushing high schools to turn out students with the practical skills businesses need. The message is getting through. This year, for the first time in a decade, the U.S. government boosted funding for high school and college vocational education to $1.1 billion. That's still $188 million below the 2004 budget to help schools teach hands-on skills. Proponents say spending on vocational training will help reverse the hollowing out of America's middle class and combat rising inequality. U.S. wage growth since 2009 has been the weakest since World War II.
There are 29 million "middle-education" jobs that pay more than $35,000 a year, considered a threshold to the middle class, according to Georgetown University research. Of those, 22.9 million require only high school or some post-high school training. Fischbach's job pays enough to launch him on a once-familiar trajectory: Start a family; buy a home; pay taxes.
Fifty years ago most American boys in middle and high school attended shop class, where they learned to make ashtrays, rebuild engines, and weld metal. As the space race gave way to the high-tech era, policymakers decided such skills were unnecessary.
College prep classes gradually supplanted shop, which by then was perceived as a "dumping ground for kids the regular school couldn't figure out what to do with," says James Stone, director of the National Research Center for Career & Technical Education in Louisville. From 1999 to 2009 the average number of high school credits earned in career/technical education fell 15 percent, according to the U.S. Department of Education.
The other reason shop classes lost their appeal was the steep drop in factory jobs. The U.S. lost 6.1 million such jobs from 1997 to 2009. Only 644,000 have been added since, according to the Bureau of Labor Statistics. No wonder parents can be dubious about shop class for their kids. Area Tool & Manufacturing in Meadville, Pa., tries to recruit from local high schools. It's hard. "How do you walk into a classroom and talk to a 16- or 17-year-old, when he has a parent who used to work there but was laid off 10 years ago?" asks Ashleigh Smith, Area Tool's office manager.
Although many parents now agree that more students should have vocational training, the prevailing attitude is still: Not my kid. "For a lot of parents, and policymakers, it's easier to say we need to send more kids to college," Stone says. "Parents go, 'Yes, that's what I want to do. My kid will be successful.' Then after four or five years they come back with a lot of bills and they're sleeping on the couch."
Businesses meanwhile can't find enough people to fix cars or work in factories. Mike Hughes, the service manager who hired Fischbach, competes with rivals to recruit kids right out of high school. If he can't find candidates there, he has to train them from scratch. "Nobody wants their kid to be a mechanic," says Hughes, who figures Fischbach will make $60,000 a year some day. "They just don't know how good of a living it is."
Advocates of vocational education are pushing high schools to identify students' career interests earlier. Then the students can be guided to both vocational and other classes to support that career, whether the goal is college or not. Progress is patchy, and many of the newer programs require students to travel to shop class or leave their neighborhood schools altogether.
Rather than incur the expense of technical training classrooms in each school, New Jersey operates 60 public magnet schools in 21 counties where students can take classes in culinary arts, cosmetology, engineering, computers, landscape design, auto body repair, and more. Eleven companies including Mercedes-Benz USA, BMW of North America, Lockheed Martin, and Novo Nordisk are forging partnerships with the magnet schools. Last year, 32,254 kids enrolled, up 30 percent from 2000. Many applicants had to be turned away.
Three years ago, New York City started the Pathways in Technology Early College High School with IBM, the New York City College of Technology, and the City University of New York. The six-year high school was designed to help students apply classroom work and real-world skills toward an associate degree in computers or engineering at graduation. IBM provides internships.
Even colleges are starting to see the benefits of vocational courses. Seth Bates, who teaches applied engineering at San José State University, started a remedial shop class for aspiring engineers who can't use a power drill properly. "By 1995, a student who came to us who had actually worked with tools was exceedingly rare," he says, adding that now the situation is even worse. "Maybe it's one out of 50 today. Most of them come in without a clue."
Kyle Jennings, an advanced placement student at Saline High School, Fischbach's alma mater, is determined to know his way around a machine shop by the time he starts an engineering degree. His dad, a Ford Motor engineer, persuaded him to take shop. His friends mostly think it's an "easy A" with zero career value, he says. "These classes really will help," Jennings says, as he ferrets out a pressure leak in a Jeep Liberty one day in auto class. "You need to know how to work with machines."