Electric Concerts, Mediocre Albums: How Prince Thrives at 56
by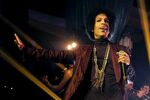 Prince definitely hasn't lost his sense of timing. After the MTV Video Music Awards on Sunday, he announced that he will release two new albums on Sept. 30. They will be his first in four years. There will be a solo record, Art Official Age, and one called Plectrumelectrum featuring 3rdEyeGirl, his all-female ensemble.
The music blogosphere erupted. Prince, who only started using Twitter a year ago, stoked expectations by releasing Clouds, the first track from Art Official Age on SoundCloud. This from a guy who refused to release his last album online and declared, "The Internet is completely over."
Then again, perhaps it was a slow week for music writers. Prince hasn't made a really good album in decades. As far as I'm concerned, the last was 1994's delightfully lewd Come, on which he wisely jettisoned the rappers he had previously enlisted to sound more current. Prince didn't need those guys. Along with being an angelic singer and playing guitar, bass, keyboards, and drums, the Purple One could hold his own as an MC.
This is not to say that Prince hasn't recorded some fine songs since then. His George Clintonesque-cover of Sheryl Crow's Everyday Is a Winding Road on 1999′s Rave Un2 the Joy Fantastic was a minor classic. Cinnamon Girl on 2004′s Musicology was a worthy addition to the royal canon. But none of Prince's albums in the past two decades can compare to his first nine, ranging from For You in 1978 to 1987′s magisterial Sign o' the Times. (I'm also partial to Lovesexy, which was rejected by critics and album buyers when it was released in 1988, but that's debate for another time.)
Prince, now 56, survives and prospers because he is a phenomenal live performer. He can fill concert halls. He is in constant demand to play private parties for the super-wealthy. And when called upon, he can deliver a transcendent performance for a national television audience, as he did at the Super Bowl in 2007, setting a high bar for subsequent acts like the grandfatherly Bruce Springsteen and Beyoncé, who was chilly and mechanical in comparison with her Minneapolis-born elder.
The new albums probably won't provide anything surprising. Prince has already previewed songs from Plectrumelectrum on YouTube and the Arsenio Hall Show. They are funky and stylish and a bit generic. You expect more from someone who has upended popular music as many times as Prince did in his heyday. Clouds, the track that he released on SoundCloud this week from Art Official Age is intriguingly psychedelic, but Prince is still playing it safe.
It doesn't matter. It's been so long since Prince has put out a record that people are likely to pay more attention than they did in 2010 when he gave us 20Ten. (Yeah, I didn't bother with that one either.) Surely, there will be a decent song or two on these albums. It may be second-rate Prince, but that's still better than more musicians can offer. And he'll still sell out shows. For an aging superstar, nothing compares 2 that.
Before it's here, it's on the Bloomberg Terminal.
LEARN MORE