A Quake Reminds Napa Winemakers of California's Faults
A major quake reminds wine producers of California's faults
by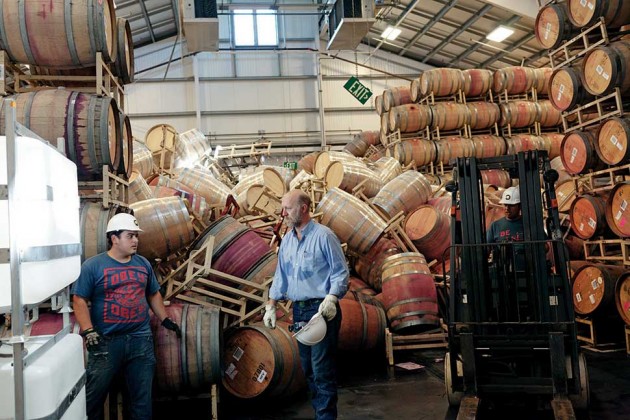 The earthquake that struck Napa Valley at 3:20 a.m. on Aug. 24 produced the expected disaster photographs of piles of broken bottles and wine bleeding into the street. David Duncan, chief executive officer of Silver Oak winery, posted just that image on Twitter two hours after the 6.0 tremor, getting 5,000 retweets. However, the more significant damage wrought on the wine producing area by the quake—the worst in the area in 25 years—didn't involve crushed glass. Wineries hold on to relatively few bottles. Most are immediately shrink-wrapped after they're filled and labeled, then sent off to warehouses and on to distributors. The trouble was the barrels.
In many wineries, they're stacked six high; and if a few of the top ones rock back and forth enough, they fall like Jenga pieces, crushing the ones below in an avalanche. The quake shook René Schlatter, CEO of Starmont Wines and Merryvale Vineyards, awake. "I was out of bed in three seconds, and I had quite a bit of wine that night," he says. Schlatter immediately headed over to Merryvale, the older of his two wineries. It was the first to produce wine after Prohibition ended and has a building dating from 1933. Once he saw Merryvale was fine, he went back home, figuring the Starmont facility, which is just eight years old, wouldn't have been affected. Then, the next morning, he says, "Our team started sending us pictures, and I was like, 'Holy s-‍-‍-.' "
Schlatter, a calm man who started working at his dad's wineries in 1995, shoved a flatbed truck against the outside of a building buckling from the weight of the fallen barrels pressing against the wall inside. The building's three enormous storage rooms were piled with a mess of 8,000 barrels, most of them broken. Fortunately, only 3,000 of them were full; the others had been emptied to prepare for grapes from this year's early harvest. "We'll be fine," says Schlatter, as hard-hatted Pacific Gas & Electric workers walk by to inspect the damage. "We're not talking about $10 million of damage. But it's more than $100,000. It's not going to shut down our business," he says. Unless the federal government designates Napa a disaster, Schlatter and other winemakers will not be eligible for special loans. He will have to pay for a new air-conditioning system, barrels, and tank repair himself. Starmont has no quake insurance.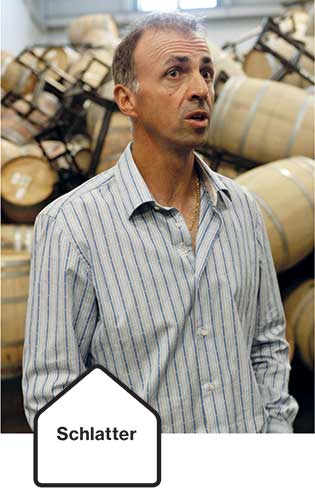 The damage to the area—including fractured roads, broken water lines, and crumbled facades like that of the 113-year-old Goodman Library in the town of Napa—may come to $4 billion, according to Kinetic Analysis, which assesses the cost of natural hazards. Insurance companies are likely to cover $2.1 billion of that amount. In California, however, earthquake risk isn't part of standard homeowners' policies. Only about 12 percent of state residents have that protection, Robert Hartwig, president of the Insurance Information Institute, told Bloomberg News. That statistic falls to about 6 percent in Napa.
"It's been text, call, text, call, text, call. 'Am I insured? Am I insured?' And the answer is: 'No,' " says Nick Svetcoff, a broker at John Sutak Risk Services, which has been a risk manager to much of Napa's wine industry for 30 years. Of its 500 clients, none have earthquake insurance. "In the few instances when someone asks us to run the numbers, they say it's too expensive," he says. Earthquake insurance for wineries costs about three times as much as property insurance and has a high deductible: typically 15 percent of the total value of the property and all its contents. Napa has 789 licensed wineries, which had combined sales of $5.5 billion in 2011.
The damage in some places was dramatic. The tasting room at Trefethen Family Vineyards, built in 1886, looks like it's in a funhouse mirror; the Hess Collection said 15,000 cases of cabernet sauvignon poured into its garden. Still, the earthquake won't cause a disruption of supply or a spike in prices for the industry. "The 2012 and 2013 were record vintages. The crops were super abundant both those years," says Patsy McGaughy of the Napa Valley Vintners trade group. Arson at a Vallejo wine warehouse in 2005 that destroyed 4.5 million bottles worth as much as $100 million had a far greater effect.
Tourists are still coming. Two days after the quake, visitors walked the streets of Napa. Some took selfies next to a Nissan Sentra crumpled with bricks, festooned with a "For Sale" sign reading "As is. Runs great."
The producers know they're in an earthquake zone, but winemaking has always been about tradition—and their model is France, which doesn't have a major fault line running through it. They might consider the experience of Silver Oak. The damage at the 42-year-old winery was almost entirely documented in the photo tweeted by its CEO, Duncan. Other than so-called library bottles, which winemakers keep to compare past lots with new, the winery is intact. That's because Silver Oak was rebuilt as an earthquake-proof fortress after a 2006 fire. Duncan even got earthquake insurance with a $1 million deductible, in case of a catastrophe.
"I was driving up here thinking, 'God, I wonder if it worked,' " says Duncan of all his earthquake preparedness. After reading a University of California at Davis study, he got rid of the standard two-barrel pallets and replaced them with heavy, stainless-steel four-barrel pallets that help absorb the shock of earthquakes better. Those required bigger forklifts. "It was a really expensive decision," he says. "It's a lot cheaper now."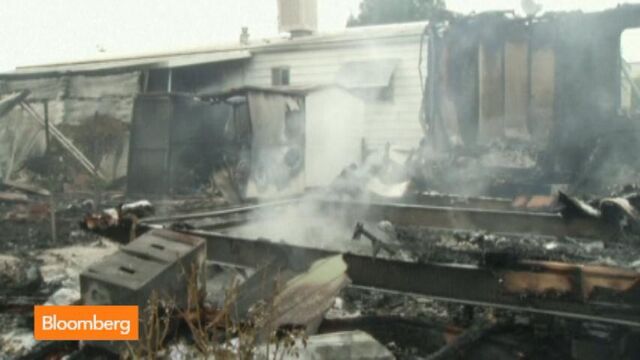 At Starmont, Schlatter is considering how he'd store his barrels differently: Maybe buy those four-barrel pallets; maybe pack them more tightly; maybe build a retractable fence around the stacks or not stack them as high. More likely, he'll keep things as they are.
Living with risk, he says, is just part of the California wine business. He says he briefly considered putting out a limited edition called "Earthquake Blend." "I was talking about it with my wife. But it's a bit of a gimmick. It's not us." Besides, he says, "somebody probably already has that name."
Before it's here, it's on the Bloomberg Terminal.
LEARN MORE