In India, Slum Dwellers Move Into High Rises
The catch: Developers also get to build luxury housing
by and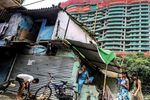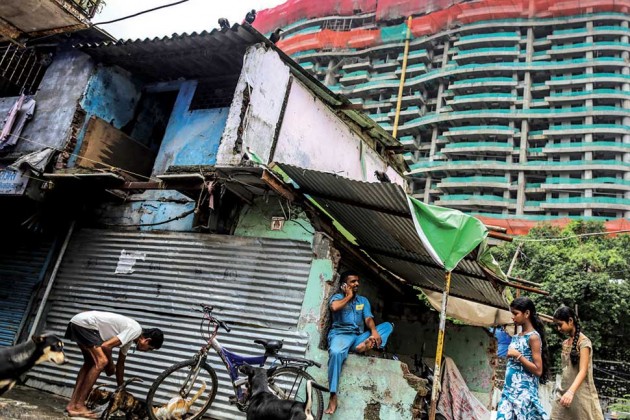 Indian developer Babulal Varma's job requires the human touch. The company he co-founded, Omkar Realtors & Developers, specializes in coaxing Mumbai's slum dwellers from their hovels, then bulldozing the slum and erecting a mix of luxury condominium towers and free new homes for the slum dwellers on the cleared land. Omkar has completed 12 projects, rehousing 40,000, with 12 more in the works, making it the most successful business in this niche. Mumbai's slums still house 6.5 million people.
In one slum several years ago, an old woman wouldn't leave her home. Omkar was keen to develop the site into a $1 billion complex of six luxury high rises and modern housing nearby for the slum dwellers. As Varma recounts it, he visited her and learned that the woman wanted two free apartments, not one. The woman lived with her two sons and their wives in a 90-square-foot shack. The wives argued constantly. Yet the law regulating slum redevelopment says a family that proves residency since 2000 can get only one new, 269-square-foot home on the same land.
Varma came back with a piece of paper showing a line drawn through the unit they'd be moving into, with a second door cut into the hallway. The wives could live separately, he explained. Agreement came in 45 minutes. "If you can understand their problem, if you can understand their issues, all the issues are very small, like a peanut, but to them this is the biggest thing," says Varma, who cites karma as his operating philosophy as he sits beside an incense-burning Hindu altar.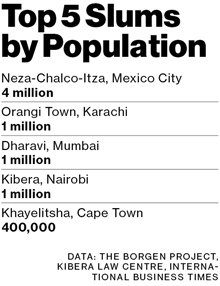 By law, Omkar and other developers must secure the consent of 70 percent of a slum's inhabitants before a project can go forward. Slum dwellers who have lived in the same spot since 2000 hold rights to the land but can sign them over to developers.
Omkar (the long form of the Hindu mantra "om") contributes to the city's efforts to get its slum dwellers into the middle class. "There is all-round social upliftment as people move from slums into proper apartments," says Nirmal Deshmukh, chief executive officer of the Slum Rehabilitation Authority (SRA), which selects the developers for the slum projects.
Since her marriage to a postal worker 13 years ago, Swarangi Pingle had lived in a 90-square-foot bilevel hut with her in-laws, her husband's two siblings, and her daughter, now 11. On May 1 she and her family became homeowners in the development where Varma persuaded the old woman to go along. Pingle's home on the top floor of a 23-story building has plenty of ventilation and sunlight. In the slum, Pingle would wait an hour to fill water jugs at the communal tap and for her turn at the common toilet. "This is much better," she says as she shows off the private bathroom, kitchen sink, and aqua-painted living room. The new homes allow space for children to study, she says: "I may have married into a slum, but my daughter won't go back to one."
Omkar, which is closely held, had 14 billion rupees ($232 million) in revenue in the 12 months ended March 2014, a 40 percent increase from a year earlier, according to spokesman Suresh Rathod. Profit margins are about 20 percent, Varma says. Slum redevelopment can involve years of negotiations with interest groups—gangsters, slumlords, or residents—often divided along political lines. Typically, 5 percent of families in Omkar developments haven't lived in one spot long enough to qualify for a new home, Rathod says. The families who get the free apartments own them and can sell them after 10 years.
The approach has its critics. The promise of eventual free housing lures more immigrants to cities, "while the public transport, water, and electricity supplies are not geared to" handle the population increase, says Uday Athavankar, a professor at the Industrial Design Centre at the Indian Institute of Technology in Mumbai. Developers create cramped "vertical slums," Athavankar says, to devote as much of the lot as possible to luxury towers. A 2012 report by the comptroller and auditor general of India, the government watchdog, found the SRA failed to create proper lists of slum residents eligible for free homes. "There was no evaluation of developers, and the quality of the construction was left to their discretion," it said. Deshmukh, CEO since late 2012, says he has taken steps to ensure that only qualified developers get projects and only eligible slum dwellers get homes.
Omkar employs at least 250 "relationship managers" to persuade residents to move out and help them settle into their new homes. The new residents, who mostly never lived in a high rise, learn how to operate elevators and fire extinguishers and care for stairs and hallways: No spitting; no littering. Slum dwellers gradually become respectable homeowners, Deshmukh says. "Their kids start going to school. The hygiene improves, and people fall sick less often. Crime reduces as the next generation gets on in life with better education and jobs. And all this happens without government putting in a single rupee," he says.
Before it's here, it's on the Bloomberg Terminal.
LEARN MORE