ICBC Profit Rises 7.5% as Chinese Banks' Growth Slows
Bloomberg News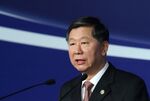 Industrial & Commercial Bank of China Ltd., the world's largest lender by assets, reported a fourth straight quarter of profit growth below 10 percent as the nation's biggest banks enter an era of more subdued earnings.
Net income rose 7.5 percent to 74.8 billion yuan ($12.2 billion), in the three months ended June 30 from a year earlier, based on the Beijing-based company's exchange filing yesterday. That record high matched the median estimate of 13 analysts surveyed by Bloomberg.
China's banks are grappling with bad loans, a cooling economy and interest-rate deregulation that is boosting competition for deposits. In the second quarter, ICBC supported earnings by widening loan margins and limiting an increase in the money it set aside for soured credit.
"We are getting more concerned about further deterioration of asset quality in the second half," said Zheng Chunming, a Shanghai-based analyst at Capital Securities Corp. "That will give banks a lot of pressure."
ICBC's nonperforming loans rose almost 13 percent in the first half to 105.7 billion yuan even after the lender wrote off 12.7 billion yuan of sour debt. Combined earnings of China's five biggest banks are projected to rise 7 percent this year, the least in more than a decade, according to analysts' estimates compiled by Bloomberg.
Shares of ICBC were unchanged in Hong Kong at HK$5.14 as of 1:11 p.m. local time, down 1.9 percent for the year. The benchmark Hang Seng Index lost 0.2 percent today.
Regulator's Caution
ICBC's loan-loss provision as a percentage of total loans fell to 2.36 percent, below the 2.5 percent required by the regulator, suggesting that it will need to set aside more money in the future.
Banks face severe challenges amid an economic slowdown and interest-rate deregulation, China Banking Regulatory Commission Chairman Shang Fulin said last month. Credit risks will rise and the restructuring of industries with overcapacity will expose more problems, Shang said. ICBC's profit growth was 10 percent last year, down from 36 percent in 2008.
ICBC increased provisions for soured debt by less than rivals including Bank of China Ltd. and Agricultural Bank of China Ltd. The money ICBC set aside increased by 6 percent to 10.4 billion yuan in the second quarter from a year earlier. Bank of China, the nation's fourth-largest bank, last week reported that it more than doubled such provisions. Agricultural Bank's rose 56 percent.
Qingdao Probe
ICBC's risks related to suspected metals fraud at Qingdao port are less than $200 million, President Yi Huiman said at a briefing in Beijing yesterday.
ICBC's net interest margin, a measure of lending profitability, widened to 2.62 percent as of June 30 from 2.57 percent a year earlier. Yi said it would stay stable in the second half.
Second-quarter profit growth compared with a 6.6 percent gain in the first three months of the year, which was the slowest pace since 2009.
A property slump and government efforts to rein in shadow banking are making it harder for Premier Li Keqiang to sustain the fastest economic growth in the Group of 20 nations. Barclays Plc this month forecast two second-half interest-rate cuts, while Australia & New Zealand Banking Group Ltd. said a reduction in banks' reserve requirements is imminent.
First-Half Income
ICBC's net income rose 7 percent to 148.1 billion yuan in the first half from a year earlier, the company said. Net interest income gained 10 percent to 237.6 billion yuan. Net fee and commission income rose 8.7 percent.
The bank had 10.6 trillion yuan of loans as of June 30, up 7.3 percent from the end of last year.
ICBC's capital adequacy ratio was 13.67 percent, while its Tier-1 buffer was 11.36 percent. The bank said last month that it plans to sell as much as 80 billion yuan of subordinated securities, which it calls preference shares, in China and abroad to meet tougher regulatory requirements.
China's lenders trade in Hong Kong at an average of about 4.6 times estimated earnings on a per-share basis for 2014, the lowest globally for lenders with a market value of more than $10 billion, according to data compiled by Bloomberg. HSBC Holdings Plc trades at about 11.7 times in London and JPMorgan Chase & Co. at about 10.8 times in New York.
China's economy grew 7.5 percent in the second quarter and is projected to expand 7.4 percent this year, the slowest pace since 1990, based on the median estimate in a Bloomberg News survey.
— With assistance by Jun Luo
Before it's here, it's on the Bloomberg Terminal.
LEARN MORE