Google Takes Amazon Rivalry to the Skies With Drone Tests
Brian Womack and Alan Levin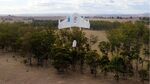 Google Inc. is taking its rivalry against Amazon.com Inc. to the skies.
The search giant's X laboratory division is developing drones that can handle deliveries, a move that would be in direct competition with the e-commerce company that is testing its own shipment service using self-flying machines.
Google's initiative, called Project Wing, aims to use drones to drop off goods quickly, the Mountain View, California-based company said in an e-mail yesterday. It will take a few years before the system is ready for commercial use, Google said.
The company said it's been exploring the use of unmanned aircraft for about two years. Its disclosure of the project pits it in a race with Amazon, which announced late last year its own plans to test drones to deliver goods. The two companies are increasingly competing with each other as they target companies as well as consumers to sustain growth.
"Self-flying vehicles could open up entirely new approaches to moving goods –- including options that are cheaper, faster, less wasteful and more environmentally sensitive than what's possible today," Google said. "Before we develop our system, we want to go out and learn about more situations in which aerial delivery could help people in their daily lives and jobs."
Australia Tests
The venture is another investment in long-term projects through Google's secretive X lab using cutting-edge technology. The unit has also produced Glass, the computerized eyewear, and is developing self-driving cars and sensor-enabled contact lenses.
Earlier this year, Google's researchers tested Project Wing in Queensland, Australia. The company tested drones with two farmers, who were delivered items including radios, dog treats and cattle vaccines.
The technology envisioned by Google and Amazon is at least several years away from U.S. approval. The companies want to fly drones autonomously without a traditional pilot who can seize the controls in an emergency. The Federal Aviation Administration in a Nov. 7 outline of its plans for drone use said it won't permit such flights.
Google hasn't requested an exemption allowing it to test its unmanned aircraft in the U.S., Les Dorr, a spokesman for the FAA, said in an interview.
"We're aware of the project and we've had discussions with them," Dorr said.
Washington Lobbying
The agency, which expects to propose rules for commercial drones weighing less than 55 pounds (25 kilograms) later this year, has so far only approved such flights in the Arctic regions of Alaska. It is considering exemptions for limited commercial flights by filmmakers, Amazon and other businesses.
Google in the last week also joined a newly created lobbying group in Washington, the Small UAV Coalition, Benjamin Harris, a spokesman for the law firm Akin Gump Strauss Hauer & Feld LLP, said in an interview. UAV stands for unmanned aerial vehicle. The coalition was formed by the law and lobbying firm.
The coalition includes camera-maker GoPro Inc. of San Mateo, California; France-based drone manufacturer Parrot SA and San Diego-based 3D Robotics Inc., which builds drones and related electronics, according to Harris. It was formed within the last month, he said.
Before it's here, it's on the Bloomberg Terminal.
LEARN MORE