Dollar General Sticks With Its Bid for Family Dollar
by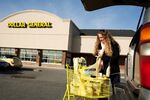 The General of the dollar-store business says it's still in charge.
Despite having its acquisition bid rebuffed by Family Dollar last week, Dollar General, the largest of the sector's three players, said this morning it isn't backing down. Shrugging off antitrust issues, the company said the financial benefits of its offer—over the chosen bid of Dollar Tree—are indisputable.
"We remain firmly committed to the acquisition," Rick Dreiling, Dollar General's chief executive, said in a statement. "Our transaction as proposed is both superior and achievable."
All told, Dollar General sales in the recent quarter climbed 7.5 percent, to $4.7 billion, while profit ticked up 2.4 percent, to $251 million. But not everything was rosy. Analysts had expected more revenue. And sales at stores open more than one year ticked up only 2.1 percent. The company's profit margin was pinched, as it offered discounts and promotions to boost business.
The results underscore why Dollar General is pursuing Family Dollar in the first place. Combined, the companies would have somewhere around 19,000 locations, dwarfing Dollar Tree's 5,000. The business of selling cheap hot sauce and napkins and deodorant is not complicated. It doesn't rest on a killer product, savvy service, or a slick app. It's about purchasing scale, supply-chain efficiencies, and a bunch of other basic blocking and tackling. In that game, size matters as much, if not more than, anything else.
A number of Wall Street analysts, meanwhile, expect Dollar General eventually to prevail in the bidding war. It can benefit more from Family Dollar than Dollar Tree, and as such, it can afford to go higher, they argue. Analysts at Wedbush Securities think Dollar General can afford a bid somewhere between $80 per share and $85 per share. The financial models at Sterne Agee & Leach say Dollar General can make the math work up to $90 per share.
The retailer, however, stopped short of raising its bid this morning. Apparently it thinks an extra $400 million is still compelling enough in the dollar business.
Before it's here, it's on the Bloomberg Terminal.
LEARN MORE