Operation Twitter: User Interface Changes in the Works
The company struggles to woo casual users
By and

The summer has been good for Twitter. Starting with the World Cup, the season has been packed with the kind of news that drives people to read and write tweets. Twitter also announced at the end of July that its ad revenue last quarter more than doubled, to $312 million, from the same period a year earlier, thanks largely to a boost from mobile phones. Its share price closed at just over $48 on Aug. 27, up about 50 percent since the beginning of June.
That success only underscores the woes that sent Twitter shares falling from a December high of more than $73 to a low of about $30 in late May. Its monthly user count, 271 million, grew 6 percent last quarter, on par with its results since November's initial public offering. Most of those sign-ups are overseas tweeters, however, worth one-fifth the ad rates of U.S. users. American tweeters are less engaged with Twitter than they were a year ago, spending 7.2 minutes a day browsing its mobile app in June, compared with 9.2 minutes the year before. Grim world news of the last few weeks has made Twitter more indispensable to hard-core users and more impenetrable to casual ones. "The mundane day-to-day is where Twitter still has challenges," says Debra Aho Williamson, an analyst with EMarketer. "A lot of people consider Twitter hard to understand, hard to figure out, hard to follow, and they don't know what to do with it."
The trouble may have its roots in Twitter's own interface, which has awaited a serious overhaul for years. There's a reason dedicated users read their Twitter feeds on programs such as TweetDeck and scoff at twitter.com. It remains difficult for casual or prospective users to browse the site or learn to tweet. Its private-messaging tool is anemic, as is Discover, a barely used news tab. Perhaps most important, Twitter's real-time flurry makes it tough for less-than-constant users to check their feeds quickly or efficiently. Top managers have debated changes to basic elements of Twitter's user interface since at least 2011, when co-founder Jack Dorsey was still in charge of the service's look and feel. A slew of executives have spun through the company's revolving door after failing to fix these problems.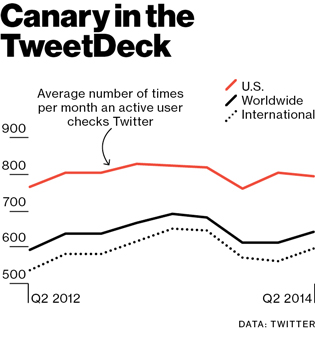 The job now falls to Daniel Graf, Twitter's fourth head of product in five years. Swiss-born Graf, 39, previously ran Google Maps after some up and down years in the startup world. His charge is to make the daily experience of using Twitter more intuitive and inviting without alienating core fans. Since arriving in April, he's restructured the product team around an inner circle of recent hires, according to two people familiar with the matter who aren't authorized to comment on it. To reinforce the focus on adding and addicting new users, he's killed a series of side projects, the people say. Graf declined to comment for this story; a Twitter spokeswoman says Graf wants to have something to show for his tenure before he talks.
Graf demonstrated interest in a product like Twitter as far back as 2005, when he started a mobile video-blogging company called Kyte.tv. The service was too far ahead of its time in a pre-iPhone world, when smartphones couldn't really load apps or reliably record video. By the time that was possible, Kyte was no match for YouTube, and a belated effort to remake it as a service for businesses flopped. In 2011, Graf and his directors unloaded Kyte on Dubai-based video hub KitDigital, which filed for bankruptcy last year. Although most investors lost money, many still have kind words for Graf. "The product was very slick, and it was positively easy to use," says Howard Hartenbaum, a venture capitalist who was at Draper Richards when it backed Kyte. "Like many consumer products, we just couldn't get the level of usage and engagement we were looking for."
After the sale, Graf joined Google and helped redesign Google Maps, which has remained the industry standard since Apple's disastrous launch of its own mapping program. "Daniel was the biggest agent of change the Google Maps team saw in years," says Hugo Barra, a former vice president of Google's Android division. Ben Ling, who hired Graf at Google and is now a partner at Khosla Ventures, says Google would have lost the mapping fight without Graf: "He really was the guy who pushed it forward, staffed it, built it, and got into the marketplace."
At Twitter, one of Graf's biggest obstacles may be his boss. Chief Executive Officer Dick Costolo hired Graf in April, toward the end of a C-suite drama that led to the exits of Twitter's chief financial officer, its head of engineering, and its chief operating officer, Ali Rowghani, who clashed with Costolo over product decisions. "If someone's gotten divorced once, you really don't know who's to blame," says Brian O'Malley, a partner at venture firm Accel Partners, which owns Twitter shares. "But if someone's gotten divorced five times, there may be a pattern there."
Costolo hasn't been shy about scrapping projects he dislikes, including a redesign that Graf's predecessor tested last year. "I think it's important when you're thinking about strategy to set direction from the top, and I have some very clear things that I think about and want to see us deliver on," Costolo said after the company's earnings announcement at the end of July. About the turnover, he said, "There's always a trade-off for serving the needs of the company as it evolves and grows. Hopefully this will be the team we have in place for a long time."
Although ads on Twitter are getting more sophisticated, the service hasn't changed, remaining principally a moment-to-moment stream of 140-characters-or-less messages in reverse chronological order. The pop cultural elements most identified with Twitter, including @ replies, retweets, and hashtags, were all created and pioneered by users before Twitter's engineers baked them into the system. As it tries to refresh its look, it may take some inspiration from Facebook, which uses algorithms to present posts in roughly the order it thinks users will want to read them. On Aug. 20, Twitter confirmed that it's begun to tweak user feeds to predict users' interests better than they might on their own, though it won't say how it's deciding what to add or move.
Graf, for better or worse, approaches these problems with the perspective of an outsider: He rarely tweets.