Cnooc's Profit Dragged Lower as Spending Undercuts Output
Aibing Guo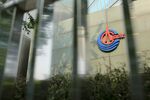 Cnooc Ltd., China's biggest offshore oil and gas explorer, said first-half profit fell as higher spending and little-changed average oil prices undercut an increase in oil and gas production.
Net income totaled 33.59 billion yuan ($5.47 billion), or 0.75 yuan a share, down from 34.38 billion yuan, or 0.77 yuan, a year earlier, Cnooc said in a statement to the Hong Kong stock exchange today. That exceeded the 30.8 billion yuan average of three analyst estimates compiled by Bloomberg.
The result increases pressure on Cnooc to cut operating costs after the company boosted capital spending this year by 31 percent to 120 billion yuan. China Petroleum & Chemical Corp. and PetroChina Co., the nation's top two oil producers, pledged in March to pare spending, invite private investment and focus on shareholder returns.
Difficulties in cost control "should not be underestimated," Cnooc said in today's statement, adding that it sees uncertainties and challenges in the second half.
Production this year will reach 422 million to 435 million barrels of oil equivalent, a 5.6 percent increase from 2013, Beijing-based Cnooc said in January.
Net production in the period rose 6.8 percent to 211.6 million barrels of oil equivalent, with Canadian unit Nexen Inc. contributing 36.3 million barrels of oil equivalent, Cnooc said today. Cnooc completed a deal to acquire Nexen in 2013 in China's biggest overseas acquisition.
The average price for Brent, the benchmark for half of the world's crude, was $108.82 a barrel in the period, compared with $107.88 a year ago, according to data compiled by Bloomberg.
Revenue at Cnooc was 138.8 billion yuan in the first six months, down from 139 billion yuan. Oil and gas sales rose 5.7 percent to 117.1 billion yuan.
Before it's here, it's on the Bloomberg Terminal.
LEARN MORE