Why Carmelo Anthony Is Funding SeatGeek
by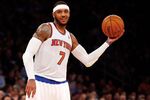 Ticket search engine SeatGeek announced today that is has raised $35 million in funding from a list of investors that reads like an ESPYs guest list: Carmelo Anthony, Eli and Peyton Manning, Nas, Mike Dunleavy Jr., Shane Battier, and Boston Celtics Chief Cxecutive Wyc Grousbeck. The lead investor, Accel Partners, while not a household name, is a long-established Silicon Valley venture fund that claims Facebook, Etsy, Dropbox, and, most tellingly, Kayak among its past investments.
SeatGeek does for sports and concert tickets what Kayak does for flights, hotels, and rental cars. It collects offerings from about 120 ticket brokers, allowing buyers to browse and comparison shop, then takes a commission from the seller, usually 8 perdent to 10 percent, on sales that come through its site. SeatGeek says it is on pace to drive $13 million in ticket sales this month and $160 million this year. The company specializes in creating analytic tools to help buyers master the market. It identifies bargains, suggests the best time to buy, and shows seat views. (It also provides fun and useful secondary market data to journalists.)
Whiz-bang price algorithms, however, are mostly worthless without users. The new funding is for getting more of them. "The money is going to be used to greatly expand the marketing effort," says Stuart Goldfarb, who joined Carmelo Anthony to launch the venture fund M7 Tech Partners earlier this year. SeatGeek, says Goldfarb, is one of about half a dozen companies the fund has invested in so far.
SeatGeek plays on a crowded field dominated by StubHub, the largest online marketplace for resellers and one of the main destinations for SeatGeek users. The goal is to give customers a reason to shop with them first. Its closest competitor in this is fellow 2009 New York City startup TiqIQ, whose recent announcement of $1.7 million in funding now looks paltry. Goldfarb says M7 Tech Partners preferred SeatGeek for its mobile apps (which, according to the company, have been downloaded 2 million times) and its data-crunching skills. "SeatGeek is really the only ticket company out there that is truly a technology company," Goldfarb says.
Before it's here, it's on the Bloomberg Terminal.
LEARN MORE