Apple Could Fix Rejected Anti-Poaching Deal on the Cheap
Joel Rosenblatt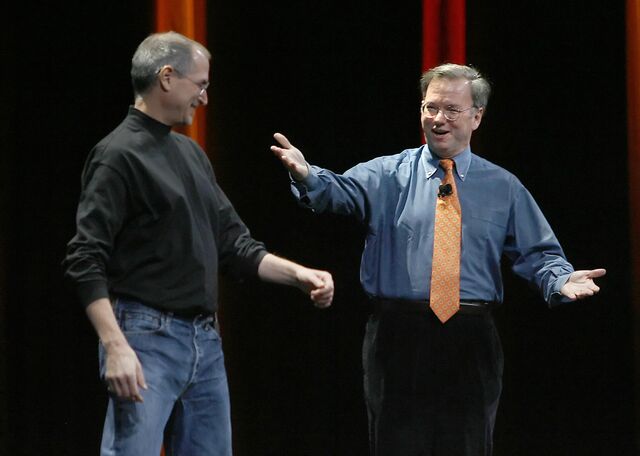 It was a shock to the parties when a judge rejected a $324.5 million settlement of a lawsuit over an alleged conspiracy by Apple Inc., Google Inc. and other Silicon Valley tech companies not to poach each other's employees.
Yet it's no surprise how easy it might be for the companies to come back with an acceptable deal, using the road map the judge laid out in her Aug. 8 ruling to steer clear of a trial with potential damages of $9 billion.
A new settlement may take as little as $55.5 million more to make it comparable to an earlier accord approved for other companies before workers secured the right to bring the case as a class action. With the leverage that ruling now gives employees, the defendants will have a strong motive to agree to a new deal based on the judge's $380 million calculation, said Matthew Cantor, an antitrust attorney.
That's relative pocket change for Apple and Google, and money aside, the incentive to avoid a trial over the anti-poaching conspiracy allegations is overwhelming. Evidence at a trial would include descriptions of former Apple Chief Executive Officer Steve Jobs pulling the strings of technology executives including Google Chairman Eric Schmidt to keep employees from jumping ship and making more money.
In telegraphing the minimum amount to the lawyers, U.S. District Judge Lucy H. Koh "gave them a tell," said Cantor, who represented payment-card issuer Discover Financial Services in an antitrust case resulting in a $2.75 billion settlement by Visa Inc. and MasterCard Inc.
Judge's Message
"One could read it as: 'If it was $380 million I wouldn't have a problem with this,'" Cantor said in a phone interview. "It's highly likely that they are going to come back with $380 million, maybe $400 million. That's what I think she's telling the parties."
Koh said in her ruling that workers' lawyers underestimated their bargaining power by settling for only 3.76 percent of the potential damages at a trial, a figure based on the damages being tripled as allowed under antitrust law. The four defendants, which include Intel Corp. and Adobe Systems Inc., had combined revenue of more than $68 billion in their most recent quarter.
The judge told the parties to come back to her San Jose courtroom Sept. 10 to report on the status of the case.
Rejections of antitrust settlements are rare, especially when objections are based on the amount and not a legal technicality. Koh, who has presided over Silicon Valley legal battles including two Apple trials against Samsung Electronics Co. over smartphone patents, made it clear she thought the employees have a strong case.
'Overarching Conspiracy'
"There is ample evidence of an overarching conspiracy," the judge wrote, explaining how the most damning e-mails revealed during years of litigation would "spotlight" key players who created and enforced the anti-solicitation agreements. "There is substantial and compelling evidence that Steve Jobs was a, if not the, central figure in the alleged conspiracy," she wrote.
The judge said the settlement agreement was "particularly troubling" after the case "swung dramatically" in the employees' favor with her ruling allowing them to sue as a group, a decision that an appeals court refused to review.
Busy federal judges are normally all too happy to see cases go away, and settlements have the added benefit of being immune to appeals, said Christopher Sagers, a law professor at Cleveland State University.
64,000 Workers
While Koh was legally required to consider the best interests of all the 64,000 engineers and other technical workers involved, the judge is taking seriously her public interest obligation to advance antitrust law and guard against plaintiffs' lawyers being bought off by defendants, he said. The rejected settlement would have given the employees' lawyers $81 million in fees plus $1.2 million in costs.
Koh's order reads like a blueprint for how a trial might be constructed, possibly pushing a new settlement figure higher.
While both sides might have seen Koh's rejection as a setback, plaintiffs' lawyers stand to gain, Sagers said in a phone interview. "The judge has just handed them a really big bargaining chip," he said.
Given Koh's strongly worded remarks and her review of the evidence, winning her approval will require a "really substantial" increase in the amount, Sagers said. The companies will probably have to "put tens or maybe hundreds of millions more dollars on the table to get this settled," he said.
Rachel Wolf, a spokeswoman for Cupertino-based Apple, along with Matt Kallman of Mountain View-based Google, declined to comment on the case. Chuck Mulloy, a spokesman for Santa Clara-based Intel, and Colleen Rodriguez for Adobe in San Jose, also declined to comment on it.
Joseph Saveri, one of the lawyers representing the workers, didn't respond to an e-mail seeking comment on the case.
Koh's Calculation
Koh arrived at $380 million as a starting point based on a $20 million accord plaintiffs' lawyers reached earlier with three other companies sued by employees -- Intuit Inc., Walt Disney Co.'s animation studio Pixar and visual-effects specialist Lucasfilm Ltd.
Extrapolating from that settlement, Koh reasoned that Apple, Google, Intel and Adobe were responsible for 95 percent of the compensation from 2005 to 2009 that workers covered by the case would have received and didn't. Any settlement should reflect at least that proportion, she said.
Lawyers' Misstep
The lawyers had started their negotiations at $230 million based on the number of affected workers at each company even though the "relevant metric" was compensation, according to Koh's order.
Intuit, Pixar and Lucasfilm settled before the ruling granting class-action status. She said that order strengthened the plaintiffs lawyers' hand with the remaining defendants.
Koh agreed with the plaintiffs lawyers' argument that the evidence against the companies that settled earlier was especially strong. Still, Apple and Google executives, she wrote, "extensively discussed and enforced the anti-solicitation agreements." The evidence included testimony from Schmidt about Jobs, the iPhone maker's deceased co-founder.
"Steve was unhappy, and Steve's unhappiness absolutely influenced the change we made in recruiting practice," Schmidt said in a deposition.
"The pressure was put on Google by Steve personally to not hire three people in a Safari team, and we responded to that pressure," Schmidt said, referring to Apple's Web browser. "That is absolutely true."
Settlement Threshold
Orly Lobel, a law professor at the University of San Diego who specializes in labor and employment issues, said Koh's suggestion of $380 million is a "threshold" and doesn't necessarily meet her interpretation of the required legal standard for what's reasonable, fair and adequate.
"This would be the reasonable benchmark other things being equal," Lobel said in an phone interview. Given Koh's emphasis on the increased leverage the workers had against Apple, Google, Intel and Adobe, a settlement of $1 billion, or 10 percent of the $3 billion in damages claimed by the workers "would be more in the reasonable ball park," Lobel said.
Koh is "convinced that there's something illegal in their practices," and objected to an inherent unfairness of the proposed settlement, Lobel said.
The judge said in her order that there's little guidance in legal precedent as to how to define a reasonable settlement. The companies settled a federal probe in 2010 by agreeing not to limit their recruiting.
Koh's rejection of the deal indicates she had enough information to decide it was unreasonable, Lobel said.
"None of us know exactly what would be reasonable," Lobel said.
The case is In re High-Tech Employee Antitrust Litigation, 11-cv-02509, U.S. District Court, Northern District of California (San Jose).
Before it's here, it's on the Bloomberg Terminal.
LEARN MORE