Zuma Fails to Quash Graft Scandals as He's Called to Account
Mike Cohen and Amogelang Mbatha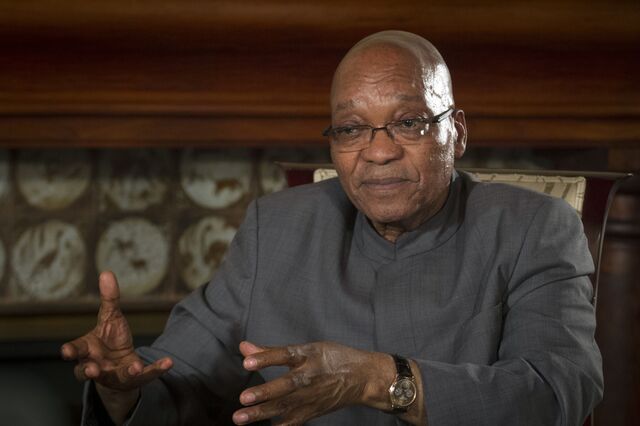 South African President Jacob Zuma's attempts to deflect two corruption scandals may have backfired, with the nation's second-highest court and graft ombudsman joining opposition parties in seeking to hold him to account.
Zuma, 72, has faced a backlash since Public Protector Thuli Madonsela said in a March 19 report that he failed to safeguard public funds during a 215 million-rand ($20 million) upgrade of his private home in Nkandla, in eastern KwaZulu-Natal province. Madonsela recommended he repay some of the money and accused him of subverting the law after he appointed his police minister to probe whether he has any liability.
On Aug. 22, the opposition Economic Freedom Fighters heckled Zuma in Parliament with chants of "pay back the money," forcing an unprecedented cancellation of the session. Adding to Zuma's woes, the Supreme Court of Appeal today dismissed his application to stop the release of tapes made by intelligence agencies of prosecution officials' conversations that were used as a reason to drop a corruption case against him five years ago.
"Surely we must be reaching some kind of breaking point," Nic Borain, a political analyst who advises BNP Paribas Cadiz Securities Ltd., said by phone from Cape Town today. "Finally, we get closer to the long-promised day in court for reviewing the decision to not charge Jacob Zuma for corruption."
Graft Charges
Zuma, who is in Russia for an official visit this week, became president in 2009, just weeks after charges against him for taking bribes from arms dealers were dropped. The National Prosecuting Authority said the case was flawed because the spy tapes indicated that chief investigator Leonard McCarthy sought to frustrate Zuma's bid to win control of the ruling African National Congress in 2007.
Zuma has also been dogged by other scandals. A polygamist with four wives, he fathered a child with a friend's daughter at the age of 67, while an Indian family that he counts as his friends secured access to a high security air force base in April last year to transport guests to a wedding.
The president continues to enjoy the backing of the ruling party. ANC Secretary-General Gwede Mantashe on Aug. 26 questioned Madonsela's motives and suggested she may be working with the opposition EFF to undermine Zuma.
'ANC Hooliganism'
"We want the public protector to do her work correctly and behave correctly," he told reporters in Johannesburg. "Her intention to discredit the ANC and its leadership in government has been consistent."
The ANC's attack on Madonsela, 51, came after she wrote to Zuma demanding that he comply with the law and respond in full to her report on misspending.
"Nobody is above the rule of law, and the president is not the exception," Madonsela told reporters in Pretoria today. "The hooliganism that is disguised as spokesmanship by the ruling party must be reined in by the ANC."
Madonsela said she will seek a meeting with Zuma, while also denying she is aligned with opposition political parties.
Support for the ANC, which has led the country since the end of apartheid in 1994, slipped to 62 percent in the May 7 election from 66 percent five years ago. The party's backing in Gauteng, the richest province that includes Johannesburg and Pretoria, slumped to 54 percent from 64 percent.
Second Term
"The ANC has lost direction and become a structure for protecting vested interests rather than democracy and that's the real concern that people are facing," Gary van Staden, a political analyst at NKC Independent Economists, said by phone from Johannesburg yesterday. "Nkandla is the latest episode of a series of events and scandals where the president is being accused of corruption and that is being pushed aside."
While Zuma's failure to adequately address the Nkandla scandal has cast doubt on whether he will complete his second term, which ends in 2019, the president may choose to delay the investigation process for as long as possible, analyst Borain said.
"It might be that we are heading for some kind of final showdown, but it can take many, many more years," he said. "There has been such an endless process of postponement of justice."
Before it's here, it's on the Bloomberg Terminal.
LEARN MORE