Local Coffee Shops Should All Move Next to Starbucks
by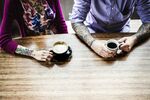 Research briefs looks at intriguing research coming out of business schools. This week: how small business owners can stop worrying and learn to love megabrands.
Study: Positioning Brands Against Large Competitors to Increase Sales
Authors: Neeru Paharia, Georgetown's McDonough School of Business; Jill Avery and Anat Keinan, Harvard Business School
Published: May 2014
When Herb Hyman, the owner of a local Los Angeles coffee shop, found out that Starbucks was coming to town, he balked. He was convinced that his career was over, and that his beloved Coffee Bean & Tea Leaf franchise was destined for the footnotes of the history books that would chart Starbucks's rise. Instead, according to a Slate report from 2007, Starbucks's encroachment on Hyman's territory drew customers to his shop. "It was the best thing that ever happened to us," he told Slate. The setup worked out so well for Hyman that he bought space next to a different Starbucks and installed a new Coffee Bean & Tea Leaf store.
A new study suggests that Hyman was onto something: Small businesses can win customer support and increase sales by drawing attention to the competition.
The study, which was published in the Journal of Marketing Research, found that when a bookstore advertised that its "main competitors are large multi-billion dollar corporations," people were more likely to buy books and to spend more money on them than if no competitor was mentioned. And when the participants were offered $1 or a chocolate bar as compensation for being in the study, they opted for the chocolate when they thought it was facing a challenge from a larger candy company.
The study also suggests that coffee shops that are closer to Starbucks tend to have higher reviews on Yelp. The researchers found that when people reviewing a Peet's Coffee & Tea store mentioned Starbucks more often, the overall rating of the Peet's store increased.
Judging by the feedback that Yelp users give Hyman and the crew at Coffee Bean & Tea Leaf, the Starbucks connection can really go either way.
"I'm a big anti-Starbucks guy, so I'll keep giving Coffee Beans 5 stars til Starbucks feels my wrath," reads a review by "Kelly."
Another user, who goes by "Dth S.," disagreed: "this place won't get a higher rating than my starbucks, purely based on the fact that it smells kinda' putrid (like diarrhea- sorry!)" Nothing that a little healthy competition won't fix!
Before it's here, it's on the Bloomberg Terminal.
LEARN MORE