ESPN Pays Four Times the Going Rate to Air NFL Games
By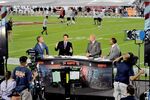 As the NFL season gets underway, let's not forget the many billions of dollars the major TV networks spend for the privilege of airing these games. By one estimate, the league brings in about $6 billion per year in total TV revenue from all sources, including satellite operators such as DirecTV.
The NFL's contracts with three of the big four U.S. television networks—CBS, Fox, NBC)—and with cable channel ESPN are all slightly different. They vary by conference, time of day, and day of week, plus the number of games a given network airs. According to published reports, ESPN pays roughly double what the three broadcast networks do:

This is just the beginning of the story. Networks are paying for more than games. They're paying for ratings, and because each network's package differs, the ratings might not be the same. Paying more money might be worth it, if it nets more viewers. At Bloomberg Businessweek's request, Brad Adgate of Horizon Media analyzed the raw TV ratings numbers to come up with each network's per-game average viewership last season:

On first glance, it seems that NBC is getting a great deal—it pays the least and has the highest audience. But NBC aired only 19 games last season. That's well behind the number CBS and Fox each aired (27). ESPN aired the fewest games, with only 17. To consider the total viewing audience, we multiply the average audience per game by number of games:

This is the number that matters. More than 500 million viewers—more than the population of the U.S.—watched football on Fox and CBS last year. (Some people watched more than one game.) ESPN's total audience was merely around 232 million, based on a smaller average audience and the fewest number of games. With all this data, we can now see how much each network spent per viewer:

Fox and CBS spent a little less than $2 per viewer, and NBC spent a little more. Adgate points out that, relative to CBS, FOX pays slightly more—and has higher ratings—because its slate of NFC games features teams from bigger cities. "Chicago, Philadelphia, Dallas, San Francisco, Atlanta, Detroit, and Washington are all top 10 markets with NFC teams, helping Fox's ratings."
ESPN, though, spends far more than the others, paying twice the cost for half the audience—effectively $8, four times what the broadcast networks pay. Ouch. Chalk the steep price tag up to some botched strategy on ESPN's part and to television industry politics. By the time ESPN was working out terms for its 2005 contract with the NFL, it had already lost the bidding for Sunday, leaving it desperate for Monday night games. Steve Bornstein, who was negotiating on behalf of the NFL, had been ESPN's president before leaving in a clash with Disney management. He wasn't inclined to show mercy, and that first contract set the bar high when the network had to renegotiate in 2011.
Sportscaster Al Michaels has called that first $1 billion deal a "major blown opportunity," and there's probably some truth to that. Still, ESPN has a rationale. Unlike the other networks, which have to share the fans' attention on Sundays, ESPN owns Monday—a weeknight in prime time. Not surprisingly, Monday Night Football is the highest-rated show on cable television and the highest-rated show for young men on Mondays. ESPN's current deal allows it possibly to air playoff games, which was not previously the case.
ESPN in now a strong position relative to the cable companies, which already pay the network an industry high of $6 monthly per subscriber. ESPN's current deal with the NFL spans eight years, during which time its contracts with cable providers will come due for renewal. With its full slate of NFL games and its general heft, ESPN has been able to pass along its additional costs to the cable companies—which, in turn, pass them to the customer. "We do not have a more important deal than the NFL," network President John Skipper has said—and he is willing to prove it with your checkbook.