Valeant, Ackman Win Bid to Fast-Track Allergan Case
Jef Feeley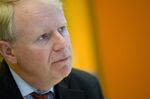 Valeant Pharmaceuticals International Inc. and Bill Ackman's Pershing Square Capital Management won a bid to fast-track litigation that seeks to force Allergan Inc. to hold a shareholder meeting as part of their $54 billion takeover bid.
Delaware Chancery Judge Andre Bouchard today set an Oct. 6 trial date to decide whether Valeant and Ackman properly secured support of enough Allergan stockholders to force a special shareholders meeting to consider replacing a majority of the company's directors. The pharma company and hedge-fund manager want to clear the way for their takeover bid for the maker of the Botox anti-wrinkle cream.
Bouchard's ruling may mean Allergan officials, who have rejected the buyout offer, will be forced to hold the investor meeting earlier than the Dec. 18 date the Irvine, California-based company announced yesterday.
Allergan shareholders' potential loss of their right to vote on whether to accept Valeant's and Ackman's cash-and-stock bid created "a risk of irreparable harm" that required the Delaware lawsuit to be handled on an expedited basis, Bouchard said at a hearing in Wilmington.
Valeant, based in Laval, Quebec, wants to buy Allergan to expand its portfolio and become one of the world's largest drugmakers. David Pyott, Allergan's chief executive officer, has fought to keep the company independent, announcing a restructuring including cutting 1,500 jobs.
Advisory Groups
Two shareholder advisory groups have recommended Allergan investors back the special meeting pushed by Ackman. The activist investor wants to add six Allergan board members and push through the deal with Valeant. Valeant has offered $72 in cash and 0.83 of a Valeant share for each Allergan share.
Valeant and Pershing Square officials said they delivered papers on Aug. 22 indicating more than 30 percent of Allergan shareholders backed calling a special investor meeting.
The pharmaceutical maker and the hedge fund also sued in Delaware Chancery Court Aug. 22 asking Bouchard to find they had complied with Allergan's bylaws in lining up stockholder support for their meeting request.
Allergan had proposed a Nov. 24 trial on whether the company's suitors had properly provided documentation on shareholders' support for the special meeting.
In their haste, the investors "are attempting to deprive stockholders of material information regarding their alleged insider-trading violations and impede the Allergan board's ability to consider strategic alternatives," according to an Allergan statement sent by Scott Bisang, of the Joele Frank public relations firm in New York.
'No Games'
Laurie Little, a Valeant spokeswoman, and Francis McGill, a spokesman for Pershing Square from Rubenstein and Associates, both declined to comment.
Lawyers for Valeant and Ackman told Bouchard today they were concerned that Allergan executives were dragging their feet in setting a trial date on the meeting request to provide time for an alternative buyer to make a bid. The drugmaker approached Salix Pharmaceuticals Ltd. in recent months about making a bid, people with knowledge of the matter said.
Valeant and Ackman are worried that a deal "could be forced upon shareholders" without a vote, David McBride, one of Ackman's lawyers, told Bouchard.
Allergan officials aren't seeking to delay a trial over Valeant and Ackman's push to force a special shareholder meeting and properly set a date for the gathering in December, William Savitt, one of the drugmaker's lawyers, countered.
"There's no games here," he said. Allergan officials need time to review Valeant and Ackman's submissions backing up the meeting request. "It's not true that we are avoiding a timely trial date at all costs."
'Pretty Apparent'
Bouchard said Valeant and Ackman raised legitimate doubts about whether the Dec. 18 meeting date was firm. "It's pretty apparent to me that Allergan may not want to have a special meeting at all," the judge said.
This month, Allergan sued Valeant and Ackman in federal court in California claiming the drugmaker colluded with the hedge-fund manager to profit from insider trades tied to the takeover bid.
U.S. District Judge David Carter in Santa Ana, California, last week denied Allergan's request for an expedited hearing for its insider-trading suit, clearing the way for Valeant and Ackman to begin an effort to force Allergan officials to schedule the shareholder meeting.
Another Request
Allergan yesterday filed another request with Carter for expedited handling of its complaint and said it's seeking a court order to prevent Valeant, Pershing Square and Ackman from voting their shares in any special meeting.
Allergan fell $1.87, or about 1 percent, to $162.09 after Bouchard's ruling was announced today. The drugmaker's shares have risen more than 84 percent over the past 12 months.
The Delaware case is PS Fund 1 LLC v. Allergan Inc., CA No. 10057-CB, Delaware Chancery Court (Wilmington). The California case is Allergan Inc. v. Valeant Pharmaceuticals International Inc. 8:14-cv-01214, U.S. District Court, Central District of California (Santa Ana).
Before it's here, it's on the Bloomberg Terminal.
LEARN MORE