U.S. Citizen Killed Fighting Beside Islamic Extremists
Angela Greiling Keane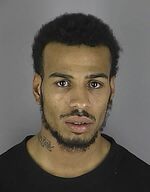 The U.S. said an American citizen was killed while fighting alongside Islamic extremists in Syria, highlighting concerns that foreign combatants involved in the conflict pose an increasing global threat.
Douglas McAuthur McCain, 33, who was raised in Minnesota, died last weekend while fighting with the Islamic State group that seeks to establish a strict Islamic caliphate spanning the Muslim world.
"We were aware of U.S. citizen Douglas McAuthur McCain's presence in Syria and can confirm his death," Caitlin Hayden, a National Security Council spokeswoman, said in an e-mailed statement. "We continue to use every tool we possess to disrupt and dissuade individuals from traveling abroad for violent jihad and to track and engage those who return."
The U.S. is investigating reports that a second American fighting with the extremists also was killed, State Department spokeswoman Jen Psaki said.
"We're looking into it," Psaki said at a briefing today. "But we don't have any independent confirmation at this point in time."
NBC News, which disclosed McCain's death yesterday, reported today that a law enforcement official it didn't identify said it "appears to be true" that a second U.S. citizen died in the fighting.
Surge of Fighters
U.S. and European officials have reported a surge in their citizens traveling to fight in Syria. U.S. officials estimate that more than 7,000 foreign fighters, including hundreds of Europeans and dozens of Americans, have gone there seeking to join IS or other groups. Foreign fighters represent around 50 countries, White House Press Secretary Josh Earnest said today.
"We are very concerned about the risk that those individuals pose to the 50 countries from which they traveled," Earnest said. "In many cases, these are individuals that have Western passports. They have some freedom of movement in our modern transportation system."
The confirmation of a U.S. casualty fighting for Islamic extremists may escalate the conflict for which President Barack Obama authorized surveillance flights over Syria. The flights could be a precursor for air strikes similar to those the U.S. is waging against Islamic State fighters in Iraq.
Family Assistance
The State Department is providing assistance to McCain's family, Psaki said.
"We are in contact with the family and are providing all possible consular assistance," she said. "Out of respect for the family we're not going to be adding any more comment at this time."
McCain graduated from high school in 1999 in a Twin Cities suburb before moving to the San Diego area, the Minneapolis Star Tribune reported. In Minnesota, McCain was convicted for minor drug possession, theft, disorderly conduct and driving after his license was revoked, the newspaper reported.
Kenyata McCain, a relative, told the Star Tribune that McCain's mother received a call yesterday from the State Department reporting his death in Syria. Kenyata McCain said she was in touch with Douglas McCain as recently as Aug. 22, and "he was telling all of us he was in Turkey," the newspaper reported.
'Complicated Problem'
Senator Jack Reed, a Rhode Island Democrat and member of the Senate Armed Services Committee, told CNN that McCain was one of "several dozens" of Americans fighting in Syria and Iraq.
"They're another aspect of the complicated problem here, not so much ISIS itself," Reed said, using an alternate name for the Islamic State group, "but individuals who are radicalized and then have American or European passports and don't fit the stereotype of a jihadist radical but then can come back into Europe or the United States."
They would be able to travel more to Western countries given their citizenship, he said.
Obama will be leading a meeting at the United Nations General Assembly next month in New York on the threat posed by foreign fighters returning from battlefields in the Middle East to attack targets in the U.S., Europe and elsewhere.
At least 100 Americans have gone to Syria to join Islamic extremist groups such as the al-Nusra Front and the Islamic State, Republican Representative Peter King of New York, chairman of the U.S. House Homeland Security subcommittee on counter terrorism, said at a congressional hearing last month.
At least one American has died as a suicide bomber after spending two months in a training camp operated by al-Nusra Front in Aleppo, Syria, King said. He was Moner Mohammad Abusalha, 22, who was born and raised in Florida, reportedly traveled to Syria in late 2013, and blew himself up in an attack in Syria on May 25, 2014, the lawmaker said.
Before it's here, it's on the Bloomberg Terminal.
LEARN MORE