Young Americans Hate Cash
by
American adults under age 30 hate cash so much that 51 percent of them will use plastic, even for purchases amounting to less than $5. That's according to a survey released on Wednesday by CreditCards.com.
The older you are, the likelier you are to whip out cash, rather than a debit card or credit card, the study found. Seventy-seven percent of Americans 50 or older prefer cash for purchases of under $5.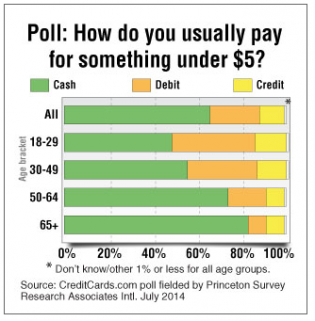 Republicans and Democrats are equally likely to use cash for small purchases, and both parties' followers are more favorably inclined toward cash than political independents. That may have less to do with political inclinations than the fact that independents tend to be younger.
When it comes to choosing plastic, under-30 Americans who have credit cards prefer debit over credit by a ratio of 3 to 1. Cardholders of all ages prefer debit over credit by a 2-to-1 margin, CreditCards.com says.
Debit cards work a lot like cash because the money comes straight out of a checking account. A credit card is more complicated. It can be a better choice than a debit card if you pay off your card in full each month because you get what amounts to an interest-free loan and rewards points to boot. But card issuers make money when you carry a balance and pay interest. (That's why they offer rewards for using your card.) Americans collectively held balances of about half a trillion dollars on credit cards at the end of June, according to (PDF) a recent Federal Reserve Bank of New York report.
Matt Schulz, a senior credit analyst for CreditCards.com, says the trend away from cash isn't great news for merchants because they have to pay fees when customers use cards. "While interchange fees on PIN-based debit card transactions were capped by the Durbin Amendment and typically cost merchants less than fees on credit card transactions, the fees are still significant enough to where merchants are much happier when their customers pay with cash instead of plastic," he wrote in an email.
In any case, he said in a phone interview, the survey makes it clear that society is moving away from cash toward plastic. The next big transition, he says, will be from plastic to mobile payments. The survey didn't cover that, but Schulz says: "It only seems likely that the generation coming after the 18-to-29 of today will be even more comfortable with using plastic and eventually, mobile payments."
The telephone survey was conducted in July and covered 983 holders of major credit cards.
Before it's here, it's on the Bloomberg Terminal.
LEARN MORE