Espirito Santo Bondholders Question Tranquilidade's Sale
Anabela Reis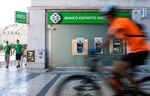 Investors holding bonds sold by a company of the Espirito Santo group, the Portuguese family empire whose bank was bailed out, are questioning the attempted sale of an insurance business by the lender that emerged from the collapse.
A group of German and Swiss investors who own a combined 11 million euros ($15 million) of Espirito Santo Financial Portugal's 70 million-euro bond say Companhia de Seguros Tranquilidade SA was "wrongfully pledged" as collateral to Banco Espirito Santo SA, according to Rainer Manthey, one of the bondholders.
If Novo Banco's sale of Tranquilidade proceeds, "they will be trying to profit from an illegal act," Manthey said in an interview from Hamburg.
Bondholders are challenging the sale as negotiations to sell the asset intensify and regulators examine how the group's companies helped fund each other. Apollo Global Management LLC is in exclusive talks to buy Tranquilidade, a transaction that may raise 50 million euros for Novo Banco, said a person familiar with the sale, who asked not to be identified because negotiations are private.
"Everybody knew that it was a very complicated group, bonds were coming out of different parts of it and there were lots of circular holdings," said Roger Francis, a credit analyst at Mizuho International Plc in London. "It's going to be a considerable nightmare" and investor challenges are to be expected, he said.
Debt Guarantee
Espirito Santo Financial Group pledged Tranquilidade as a guarantee on debt issued by its indirect parent that was sold to retail clients of Banco Espirito Santo, said a spokeswoman for Novo Banco, the company created to hold the lender's good assets after the bailout earlier this month. That guarantee was transferred to Novo Banco, which can keep the proceeds from the asset's sale, said the spokeswoman, who asked not to be identified in line with company policy.
Novo Banco's spokeswoman said sale talks are continuing, without elaborating, while officials for Apollo weren't immediately available to comment.
The group of investors wrote a letter to Novo Banco Chief Executive Officer Vitor Bento stating "they strongly disagree with the legal validity" of Tranquilidade's pledge as collateral "and are therefore staunchly determined to challenge by whatever means available to them any effects the same is intended to produce."
Repayment Right
According to the bond's offer document, if the group's stake in Banco Espirito Santo was to fall below 25 percent, bondholders had the right to demand early repayment of the securities. ESF Portugal also committed not to create any other claims on its assets without bondholder approval.
ESF Portugal's stake in Banco Espirito Santo dropped to about 19 percent after it sold shares to ESFG, according to a June 4 regulatory filing by the bank. ESFG's combined holding in the lender fell to 20 percent on July 14 and it couldn't reduce it further because the shares backed another financing.
That left its stake in Tranquilidade as the only other asset that "could allow an unsecured credit to fund the payment to bondholders" said Manthey, who owns 5.2 million euros of the bonds.
"Because ESF Portugal didn't directly own or fully control Tranquilidade there may be room here to question if ESF Portugal could stop the insurer from being pledged as collateral," Mizuho's Francis said.
The 5.125 percent notes due May 2016 have fallen to 15.625 cents on the euro from 55 cents on Aug. 1, according to data compiled by Bloomberg.
Insolvency Cascade
ESFG owns the stake in Banco Espirito Santo through ESF Portugal. ESF Portugal indirectly owns a stake Tranquilidade.
The debt holders said "it is their primary concern to ensure the protection and safekeeping of goods that constitute the assets of the debtor company," according to the letter investors sent last week. They plan to inform the Bank of Portugal, the country's insurance regulator Instituto de Seguros de Portugal, securities regulator CMVM and Apollo of their disagreement, according to the letter.
The investor challenge highlights the difficulties faced by administrators that are resolving a cascade of insolvencies among the Espirito Santo family companies. ESF Portugal filed under Portuguese corporate insolvency and recovery code Aug. 1, after the parent company requested creditor protection July 24.
"There can be some doubts about the division of assets in such a sui generis breakup," Joana Gomes, partner at Caiado Guerreiro e Associados who specializes in commercial and corporate law, and isn't involved in the case, said by phone. "Any time there is damage to someone the question whether the procedure was fair must be analyzed."
Before it's here, it's on the Bloomberg Terminal.
LEARN MORE