The Emmys Have an Oscar Problem
By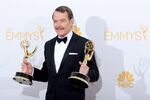 It's pretty easy to tell when a film's trying to win an Academy Award. Was it released in November? Is it about World War II, a terminal illness, or national tragedy? Does it star Leonardo DiCaprio? Has its main character overcome systematic discrimination and injustice to achieve something great—but preferably in an earlier time period so we don't have to question our own prejudices too closely? If so, it's probably gunning for an Oscar. The Emmy stereotype isn't as well-developed, but last night we got a lot closer.
We are in what has come to be known as "the Gilded Age of Television," as the New York Times put it this morning. There are now so many sweeping, multilayered epic dramas about everything from Britain's crumbling aristocracy to Soviet spies that most people don't have time to watch them all. As audiences become more invested in these shows, they become more invested in their success or failure. And they tune into the Emmys to see if they won.
"Ah, the long, lonely path of the Mad Men fan," tweeted a woman named Libby Hill last night, followed by a string of tweets about how Mad Men is the best show ever.
"FINGERS CROSSED FOR YOU CHRISTINA HENDRICKS!!!" Allegra Harris cheered.
"How can #Hannibal not at least had a nom for cinematography, sound design, directing?" a woman named Emily complained.
"If Breaking Bad didn't win that #Emmy I would have seriously questioned society," admitted blogger Patrice Vandenbos.
No wonder the audience for the Emmys has been expanding over the past few years, going from 12 million in 2011 to 18 million last year, thanks in part to the NFL game that aired right before it. This year, without football and airing on a less-than-ideal Monday, the Emmys still got an impressive 15.6 million viewers. Over the next few years, the Emmys, once "an ego stroke to the talent but inconsequential," may grow into something that more closely resembles a mini Oscars. For actors, the statue has become a whole lot more important than it was just a few years ago.
In 1991 the late NBC executive Brandon Tartikoff gave an interview to the Los Angeles Times about his theory that in the future, shows would develop niche audiences and television networks would need to "do something that's totally different, that's … not on your competitors' [networks]." And while that's true from a business standpoint—HBO, AMC, and now Netflix have changed the television market—creatively, when you gather the shows' creators in one room and watch them hand out awards to each other, you realize that the nominees' similarities appear more obvious than their differences.
And so the Emmys are slowly but surely developing an Oscar problem. Just as there's a certain type of "best" movie, there seems to be a "best" TV show, especially among dramas: darkly lit, depressive, and with some sort of criminal element or deviant behavior that the characters try to morally justify. Shows that don't fit that description tend to get ignored. Critics love NBC's Parenthood, for example, which deals with weighty topics ranging from Asperger's to alcoholism, but it's a sentimental family drama set in Berkeley. No one on the show will ever marry his secretary, murder a journalist, or start selling meth, and it will never win an Emmy. The Walking Dead suffers from zombie discrimination, The Americans is routinely overlooked, and while Julianna Margulies won (again) for her lead role in CBS's The Good Wife, the show hasn't been nominated as an outstanding drama since 2010.
So next year, as you settle in to live-tweet the Emmys, consider your predictions carefully. Is your favorite show an hour-long drama that stars a ruggedly handsome man in a position of power but with a crippling personality flaw that threatens to undo him? Does it come from a cable channel, Netflix, or PBS by way of Britain? Has it finished its final season so now everyone feels all sentimental about it? That was the case for Breaking Bad last night; next year, it'll be true for Mad Men.
Before it's here, it's on the Bloomberg Terminal.
LEARN MORE