Steelmakers Seen Hurting Profits as Sales Chase Dents Prices
Thomas Biesheuvel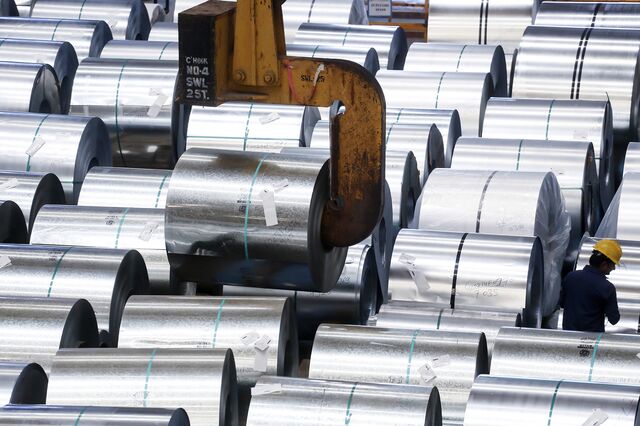 The world's biggest steelmakers are hurting profits by chasing sales of the metal at any cost, according to Roland Berger Strategy Consultants.
Steel producers struggling to recover from the global financial crisis have sought to cut costs and ramp up production to fill surplus capacity. That's leading to lower prices and profits, the consultancy will say in a report due to be released next week.
"The major threats -- overcapacity, low-price imports -- are here to stay," said Tom Wendt, a partner in North America for Roland Berger. "Competing on cost against just about every mill in the world that is by a port is a game U.S. and European mills won't win."
Producers should defend prices by offering services such as warehousing and customized payment terms and building personal relationships that global competitors can't match, Roland Berger, which has advised some of the world's biggest steel producers, will say in its 'Challenging Conventional Wisdom in Steel' report.
Steelmakers have been making more of the metal to boost margins. U.S. producers used more than 80 percent of available capacity last month for the first time in more than two years. Globally producers are using about 75 percent of capacity.
That strategy has not led to increased prices. U.S. hot rolled coil, a benchmark product, hasn't topped $700 a ton in three years, while European prices have fallen for five straight quarters, according to Metal Bulletin data.
Price Focus
"Capacity utilization must be balanced even more carefully with price; the additional volume can be beneficial, but not at any price," Isaac Chan, a senior consultant at Roland Berger, said in the report. "Increasing your focus on price has a lot of upside."
The steel industry, led by ArcelorMittal, has shuttered plants and fired workers after dwindling demand and excess capacity shrank profit margins.
Steelmakers are also combating rising Chinese exports as the premium for U.S. steel over that supplied from China approaches a two-year high. China's steel exports in July jumped 57 percent from a year earlier, according to local customs data. Shipments grew by 10 million metric tons in the first half, while imports to the U.S. rose 4.9 million tons in the period, Macquarie Group Ltd. figures show.
Chinese Exports
Chinese exports have increased by 33 percent in 2014 and are on an annual pace to reach 75 million metric tons this year, equivalent to the U.S.'s entire production, according to Bloomberg Intelligence analyst Kenneth Hoffman.
Global steel production rose to a record 1.58 billion tons last year. ArcelorMittal, the world's biggest steelmaker, produced 96.1 million tons followed by Japan's Nippon Steel & Sumitomo Metal Corp. which made 50.1 million tons, according to the World Steel Association.
Global demand for steel will increase by 3.1 percent this year to 1.53 billion tons and rise a further 3.3 percent in 2015, the organization forecast in April.
Rather than cutting costs and selling more steel, U.S. and European producers should focus on services that Chinese rivals can't offer, said Roland Berger's Kunal Shah
"Steel is considered a commodity, but that doesn't mean it has to be sold like one," senior consultant Shah said. Personal relationships and better communication, as well as services such as warehousing and customized payment terms can make the product more appealing, he said.
"Many domestic mills have a misconception that they need to cut prices in order to compete effectively with imports. Instead, domestic mills must focus on adding value through means other than price to differentiate."
Before it's here, it's on the Bloomberg Terminal.
LEARN MORE