Flight Delays Are Mostly Airlines' Faults? Yes, Says a Pilot
By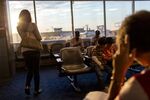 Inclement weather and air traffic congestion often get blamed for flight delays that airlines could largely minimize if they were to maintain tighter control of their operations, a veteran pilot contends.
Carriers "abdicate" control of their aircraft to outsiders such as baggage handlers, gate agents, and government air traffic controllers, Michael Baiada, a veteran pilot and logistics consultant, said on Monday at an aviation conference. As a result, thousands of flights arrive late each day because of minor issues such as an occupied gate or last-minute weather re-routings. Nearly all decisions on an airplane's speed, altitude, and routing are made by Federal Aviation Administration flight controllers, not airlines, he says.
"I'd tell airlines to take control of their airplanes," Baiada, a Boeing 747 captain who plans to retire in November, told the Boyd Group conference in Las Vegas. "Basically, the FAA is trying to do something the airlines need to do on their own." This lack of oversight equals more than $3 billion that airlines "are leaving on the table" each year by not demanding better operational performance, he said.
Baiada, who is is also chief executive officer of Colorado-based ATH Group, which sells aircraft traffic-management software, likened the potential to the way Toyota Motors intricately manages its auto assembly techniques and said airlines need to appoint "production managers" to get passengers and their luggage to destinations more reliably than the industry currently achieves. "One airline is going to stand up and say, 'I'm mad as hell and I'm not going to take it anymore,'" predicted Baiada.
Until the late 1950s, most airlines controlled their flight operations. The federal government assumed air traffic control duties following a 1956 mid-air collision in Arizona between United and TWA planes that killed 128 people.
While airlines have no interest in assuming traffic control duties, Baiada says most don't bother to tightly integrate all operations, from the flight deck to the boarding gate to baggage and flight dispatchers. One (minor) example: "Why can't we have the jetway up and going in 30 seconds?" when a plane parks, Baiada asked on Monday after his presentation, arguing that airlines have for decades wasted two to three minutes on arrival before deplaning begins. "This is not rocket science," he said. "It's simple logistics."
Peter Ingram, chief operating officer at the U.S. carrier with the best on-time arrival record, Hawaiian Airlines, says airlines optimize their flight plans fairly well. He also says it's unlikely that tighter logistics oversight would yield billions in savings. "What happens is that airlines all see the same routings as the most efficient" between particular destinations, says Ingram, a former American Airlines finance executive. That means air traffic will flow to the same places, often at the same times, which creates congestion. And global airlines with thousands of daily flights have enormously complex operations.
Before it's here, it's on the Bloomberg Terminal.
LEARN MORE