Pet Food Fight: Ad Industry Review Board Smacks Blue Buffalo
Paul M. Barrett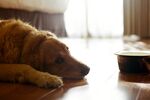 Blue Buffalo, a fast-growing upstart in the high-end pet food market, has backed down in response to a competitor's accusation that it made misleading advertising claims. How that retreat will affect Blue's fight with the biggest dog in the kibble industry, Nestlé Purina, remains to be seen.
As we chronicled in a recent Bloomberg Businessweek feature article, closely held Blue Buffalo has grown swiftly—to sales of about $1 billion, according to founder Bill Bishop—and in the process has taken a bite out of larger competitors' revenue. Marketing plays a major role in the story:
The company's rise can be measured not only by its near-ubiquitous retail presence but by pervasive advertising that Bishop boasts is deliberately "in-your-face," and encourages "pet parents" to compare the Buff to the competition. Blue Buffalo's television spots and Internet videos have become so familiar they've been parodied on Saturday Night Live. The mock commercial for "Blue River" dog food aired on NBC in April. Guest host Seth Rogen and SNL cast member Cecily Strong played the sort of overwrought consumers who philosophize about pet nutrition in Blue Buffalo's actual ads. The characters suffer an emotional meltdown as they discuss what they've fed their bug-eyed pug mix, Peanut.
Larger competitors haven't been amused. One, Hill's Pet Nutrition, complained to the National Advertising Division, an investigative arm of the ad industry's self-regulating body. The NAD recommended that Blue Buffalo modify certain ads asserting that larger competitors were "fooling" customers about ingredients.
Now, the National Advertising Review Board, an appellate panel of the Advertising Self-Regulatory Council, has upheld the earlier NAD findings. As part of the oversight process, Blue Buffalo said that it disagreed that its ads were inaccurate. Still Blue said it would "strive to abide" by the contrary ruling.
It's not clear, though, how Blue Buffalo's ultimately conciliatory stance will bear on a separate conflict with the much-bigger Purina. The St. Louis-based pet food titan chose a more formal venue—federal court in its home town—to sue Blue Buffalo.
From our magazine article:
In May, Purina sued Blue Buffalo in federal court in St. Louis for false advertising, commercial disparagement, and unjust enrichment. Bishop's lawyers fired back with equally heated counterclaims about an unlawful Purina "smear campaign" seeking "to stem the exodus of Nestlé Purina customers to Blue Buffalo." In a taunting open letter posted on his company's website, Bishop accused the larger company of relying on "voodoo science" when it cited in its court papers lab tests supposedly showing that Blue Buffalo used poultry byproduct meal—an ingredient Bishop's company promises "never" to include.
In its court papers, Purina also cited the Hill's NAD ruling, which at that time Blue Buffalo was still contesting. The difference between the two disputes is that Hill's sought a rewrite of Blue's ads. Purina is seeking millions of dollars in damages. Extricating itself from the Purina suit may prove costlier for Blue Buffalo–unless, of course, it can show that Purina's more aggressive accusations are false and part of a corporate smear job.
Then there's the separate question of whether Fido would really object to a little poultry byproduct meal in his bowl. Until dogs learn how to hire their own lawyers, we may never know.
Before it's here, it's on the Bloomberg Terminal.
LEARN MORE