New Stanford MBAs Take an Unauthorized Trip to a Secluded Colombian Island
by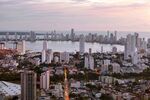 Last Saturday, more than 200 members of Stanford's new MBA class descended on Cartagena, a Colombian port city on the Caribbean coast, for an elaborate get-together that hits three cities, one remote island, and a nightclub the size of a city neighborhood.
The trip has become an August tradition for young professionals about to enroll at Stanford's Graduate School of Business. Incoming students and alumni manage every detail of the trip. The GSB has no affiliation with the excursion, and students say the school administration is uneasy about the event.
Since 2012, Stanford GSB has offered new students three official trips to Latin America, but none has enticed more than 40 students to attend, says spokeswoman Barbara Buell. Last year's unauthorized Colombia trip, by contrast, lured more than half the class.
Students will travel from Cartagena to the city of Medellin before concluding their trip in Bogota at one of the country's largest clubs. This year's travel began with seaside cocktails in Cartagena and a long night of clubbing, said Jackie Bello, one of the students currently there, in an e-mail. "I 'only' lasted until midnight, but my roommate made it home around 5:30 a.m. I figure it's a marathon, not a sprint."
On Sunday, students were invited to "a night of drinking, clubbing and mingling" at a bar described as "a favorite hangout for a beautiful crowd that likes to end their Cartagena nights in style." Partygoers got sleeveless T-shirts, sunglasses, and branded wristbands bearing the name of their GSB class.

Students know the trip might seem indulgent, but they say accommodations can be inexpensive and that the experience is designed to give new MBAs a comfortable environment in which to get acquainted.
The 230 students who flew to Colombia this year pledged over $300,000 on Tilt, a website that organizes large group payments, says Mike Duboe, a Stanford MBA who handles growth for Tilt. They paid more than $1,300 each. Students sometimes travel on Vivacolombia, an airline owned by Stanford alumnus William Shaw, who offers them discounted fares. Students are warmly welcomed by other alums in the region, one of whom is said to host them at a restaurant outside Bogota.
It might be most meticulously planned fun you could have with hundreds of peers (and some of their significant others). The eight incoming students who organized the adventure this year created a 32-slide PowerPoint presentation that offers tourism guides, explanations of local customs, and common "Misconceptions about Colombia" (e.g., "Colombia is full of cocaine users").
For some outsiders, the vacation may seem hazardous for its sheer size. "The school doesn't like it that we do [the trip] because they think it's a security risk to have 250 people take similar flights," says Tim Eisenmann, a second-year student at Stanford's business school, who went on the trip last year. Stanford GSB would not comment on the trip because the school has no affiliation with it. 
Scott Rezvani helped plan last year's trip, a project that lasted at least six months. The highlight of the visit for many, Rezvani says, were two days spent on an island called Isla Mucura, part of a tiny archipelago reachable by speedboat. Once there, the students had the island essentially to themselves. "It felt like our own little world, where we could go around and everyone was our friend," says Rezvani.
The final night of fun occurs at restaurant-nightclub hybrid Andres Carne de Res, in Bogota. "This is the final blowout night, and alumni from all over South America come and party," says Eisenmann. Condé Nast Traveler described the venue as a "sprawling 2.76 square mile restaurant that encompasses 11 dining areas, two dance floors, more than five kitchens, and a climbing wall." Eisenmann calls it "the hottest club in Colombia."
If the itinerary doesn't tempt students, perhaps a fear of missing out does. Second-year student Eisenmann sums it up: "The Colombia trip is so epic and everyone does it."
Before it's here, it's on the Bloomberg Terminal.
LEARN MORE