Small Winemakers Assess Napa Quake Damage
by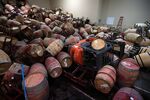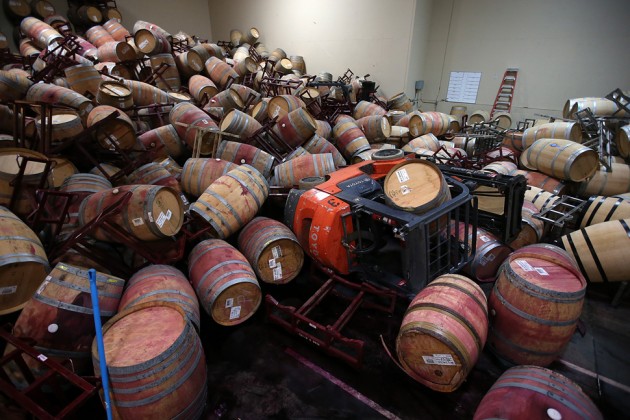 This was shaping up to be quite a year for vintner Steve Matthiasson, with an award for winemaker of the year, and a semifinalist honor from the James Beard Foundation.
Then last weekend's 6.0 quake hit Northern California, causing about $200,000 damage to Matthiasson's home in Napa. No members of his family or those of his two employees were hurt. But when he went to check on his 2013 red wines, stored in a leased winery near downtown Napa, he found that his barrels had been tossed around like matchsticks. The photo he posted on Twitter has been retweeted more than 1,000 times:
"They're in a big heap, along with the barrels of the 10 other people who use the facility, and there's wine everywhere," says Matthiasson. "We won't know for the next couple of days how much of that wine is still good. If the barrels didn't pop open, it'll be fine. But if not, reds are our most expensive—and that's our bread and butter."
Smaller independent wine makers were hardest-hit in the quake because most of them lease space in shared facilities that are located close to the epicenter, where the shaking was most intense. Benoit Vialle, chief operating officer at NakedWines, says the crowdfunded, 80-employee winery network is considering an appeal to its customers for donations to help its vintners who lost the most.
"Everyone is quite worried about them, and we're looking to see if we can help out," Vialle says. "No one is sure what kind of payments will be made by the insurance companies." NakedWine, a U.K. project that expanded to the U.S. two years ago, raised money previously to get a winemaker, whose entire production was vandalized, back on her feet.
On Monday afternoon, Vialle was rushing to the downtown Napa tasting room of NakedWines, where 300 to 500 bottles were lost in the early-morning temblor. He was hoping to be allowed inside to assess the damage and begin cleaning up so that his business can reopen before this weekend's Labor Day holiday. The long weekend, which coincides with wine country harvest time, brings hordes of tourists to town. "We were expecting a lot of visitors, so hopefully within the next couple of days we can get things back in order," he says.
Matthiasson, meanwhile, was jackhammering the collapsed chimney of his house and waiting anxiously to be allowed inside the warehouse to check on the fate of his red wines. "We do have insurance, but the big problem I'm struggling with right now is that we need to have wines in the marketplace. Our wine is highly allocated, so we sell every bottle," he says, mostly to farm-to-table restaurants in San Francisco, Los Angeles and New York, where chefs are looking for his signature blends.
He was also worrying about the region's farmworkers, many of whom lost everything in the quake, and was considering what he might do to help them. He anticipated another long day on Tuesday. Quake or no quake, he'll be out in the field, supervising his chardonnay harvest. "The product has to be picked," he says, "That's just Mother Nature."
Before it's here, it's on the Bloomberg Terminal.
LEARN MORE