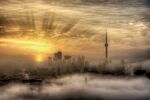 Is Canada a tax haven? You could be forgiven for asking the question after hearing that Burger King, founded in Miami in 1954, plans to move its headquarters north of the border as part of its purchase of Tim Hortons, the Ontario-based coffee and doughnut chain. Burger King insists its deal isn't tax-motivated. Still, it is treading a path that others have used to lower their tax bills.
Valeant Pharmaceuticals, formerly of California, became Canadian in a 2010 deal; a second drug company, Auxilium, is in the middle of doing so now, a process known as an inversion. Tim Hortons, a Canadian icon, did its own inversion in 2009: It repatriated to Canada after the end of its decade-long marriage with Wendy's, which had left it with a U.S. corporate address.
Canada is hardly a low-tax nation. Its overall tax burden is about 30 percent of gross domestic product, higher than the U.S.'s 24 percent rate. But that figure includes personal income taxes and other levies that don't apply to corporations.
For the Whopper maker, Canada's big attraction may be that corporations there don't have to pay tax on the earnings of many of their foreign subsidiaries, as they do in the U.S. That's not so unusual—other U.S. companies have gotten the benefit from inverting to the U.K. or the Netherlands. But it would be a plus for a company such as Burger King that's looking to expand internationally. With a Canadian address, it could collect some foreign profits without subjecting them to an additional layer of taxation at home.
Over the past two decades, many developed countries have either lowered corporate income taxes, stopped taxing foreign profits, or both. The U.S., whose 35 percent rate is now the highest in the developed world, is an increasingly lonely holdout. That's why, from Miami, the whole world is starting to look like a tax haven.
Before it's here, it's on the Bloomberg Terminal.
LEARN MORE