Andy Murray Needs a Raise
by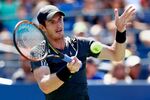 Andy Murray squeaked out a first round victory in the U.S. Open on Monday, despite cramps all over his body. The performance saved Murray, ranked 9th in the world in men's tennis, from an embarrassing upset in the final major tournament of year. The event also carries a little extra weight for Murray: It's his last major before his apparel deal with Adidas expires in November. Murray signed with Adidas in 2009—before his breakthrough U.S. Open victory in 2012 and his Wimbledon win the following year made him a hero in the United Kingdom. That deal paid a reported $16.5 million over five years, with bonuses possibly boosting the value as high as $5 million per year.
Murray is, no doubt, due for a raise. The 27-year-old Scotsman is a global star and probably still in his prime. According to the Daily Record, Nike and Adidas are both bidding for Murray with deals worth as much as $83 million. The paper doesn't say how long such a contract would run. The richest shoe and apparel contracts in men's tennis belong to Roger Federer and Rafael Nadal. Federer's deal is reportedly worth as much as $13 million a year, with a base value closer to $10 million. Nadal gets a reported $7 million per year. Current world No. 1 Novak Djokovic splits his suppliers between Uniqlo for clothes and Adidas for shoes. Reliable estimates for both deals are not public.
Murray, according to data from sports market researcher Repucom, is not as famous as either Federer or Nadal. He is, however, younger. And he matches Djokovic almost exactly in age, fame, and general appeal:
 


One way sponsors might think of Murray is as Djokovic minus on-court quality, plus extra British appeal. In the U.S., also according to Repucom, awareness of Murray jumped from 33 percent to 40 percent after his 2013 Wimbledon victory. That 21 percent increase might be the best peg for Murray's value to a sponsor, which would put him at least in the $6 million-per-year range. That's a drop in the bucket for either Adidas or Nike.
Before it's here, it's on the Bloomberg Terminal.
LEARN MORE