Abdullah Threatens to Reject Afghan Results in Fresh Crisis
Eltaf Najafizada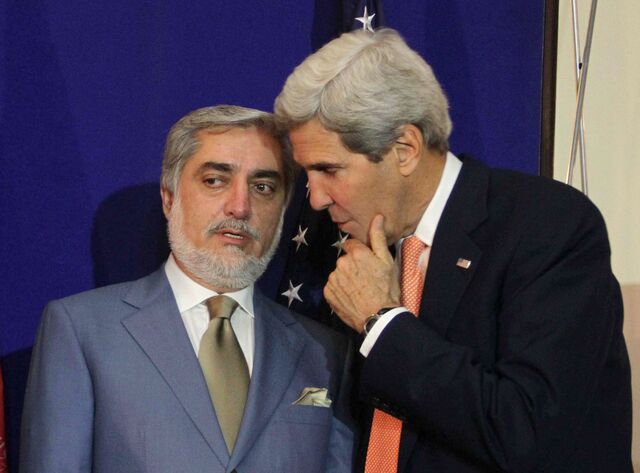 Afghan presidential candidate Abdullah Abdullah threatened to reject the results of a United Nations-backed vote audit, jeopardizing a power-sharing deal brokered by U.S. Secretary of State John Kerry last month.
The UN failed to adhere to its requests on how fraudulent votes in the June 14 election should be invalidated, Fazl Ahmad Manawi, Abdullah's chief vote audit observer, told reporters in Kabul today. President Hamid Karzai had said this week that either Abdullah or fellow candidate Ashraf Ghani Ahmadzai would be inaugurated on Sept. 2, in line with U.S. wishes.
"If our demands aren't met by tomorrow, we will boycott the process of vote auditing and reject the results coming out of it," Manawi said.
Abdullah's move threatens to trigger unrest in Asia's poorest country and further delay the signing of a security pact to keep U.S. troops in Afghanistan beyond this year. At stake is billions of dollars to fight Taliban insurgents who want to retake power when the U.S. pulls out.
The UN proposed the most important steps of the audit following "significant consultation" with Abdullah's and Ghani's teams, Jan Kubis, the UN's envoy to Afghanistan, said in a statement today. While neither candidate fully agreed to the proposal for the invalidation and recount criteria, they had initially informed the UN that they had accepted it as a basis to move forward, according to the statement.
"The United Nations will continue to work with both campaigns to address any concerns they have," the UN Assistance Mission in Afghanistan said.
Ghani's spokesman Faizullah Zaki didn't immediately answer calls to his mobile phone.
Sharing Power
More than 70 percent of about 23,000 ballot boxes have undergone audits, the UN said yesterday. The Independent Election Commission of Afghanistan is deciding on the validity of some 8 million ballots cast, it said.
The U.S. wants Afghanistan to install a new president before the North Atlantic Treaty Organization's summit in Wales on Sept. 4-5. That would enable the next leader to request funds for Afghan security forces.
While Karzai has refused to sign the agreement to keep U.S. and allied troops, both Ghani and Abdullah have said they would do so. Foreign grants pay for about 50 percent of the Afghan government's expenditures, according to World Bank estimates.
Under the power-sharing agreement, the losing candidate would become chief executive officer, a new position that would report to the president. The CEO's role eventually would become executive prime minister after constitutional changes are approved.
Obama plans to reduce U.S. forces in Afghanistan to 9,800 by the end of this year, with only a small force at the embassy by the end of 2016, when he will be preparing to leave office. Thirteen years of the U.S. fighting the Taliban in Afghanistan has cost 2,342 American lives, as of yesterday, according to data compiled by Bloomberg.
Before it's here, it's on the Bloomberg Terminal.
LEARN MORE