Vanke Offers Alibaba Shoppers Up to $325,000 in Discounts
Bloomberg News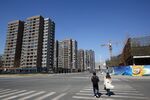 China Vanke Co., the country's biggest developer, teamed up with Alibaba Group Holding Ltd. to offer discounts of as much as $325,000 to home buyers who also shopped on the e-commerce company's Taobao Marketplace.
Vanke will grant discounts of 2 million yuan ($325,000) on select properties if the home buyer spent more than 2 million yuan on Taobao in the last year, according to a statement on Taobao's website. Spending one yuan makes buyers eligible for a 50,000-yuan rebate.
Vanke and other developers have cut prices since March to lure homebuyers amid a slump in the nation's property market, according to China Real Estate Information Corp. Last month, new-home prices fell in the most cities tracked by the government since January 2011, as tight mortgage lending deterred buyers.
Alibaba, meanwhile, is preparing for an initial public offering in the U.S. that may raise as much as $20 billion -- possibly making it the largest IPO ever in the U.S.
Twenty-three Vanke projects in cities including Beijing and Hangzhou are covered in the Taobao offer, according to the statement. The offer started yesterday and lasts through Sept. 30.
Within half a day, more than 140 Taobao users had gotten 1 million yuan in discounts, according to an article on the website of China Business News.
Under the offer, people who spent between 50,000 yuan and 2 million yuan on Taobao in the last year get discounts equal to the total cost of their online purchases.
Vanke's first-half profit climbed 5.6 percent as it sold more small and medium-size homes that are less affected by market downturns, the company said Aug. 17.
— With assistance by Dingmin Zhang
Before it's here, it's on the Bloomberg Terminal.
LEARN MORE