Mexico Luring Indian Explorers May Aid Modi's Energy Hunt
Rakteem Katakey and Debjit Chakraborty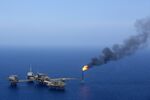 Oil & Natural Gas Corp. and Reliance Industries Ltd., India's biggest energy explorers, are looking to invest in Mexico as North America's third-biggest producer courts foreign companies after a 76-year hiatus.
State-owned ONGC, which is grappling with falling output in India, wants to partner with Petroleos Mexicanos to develop producing oil fields and is also considering bids at an auction of deposits next year, Chairman D.K. Sarraf said. Reliance, controlled by billionaire Mukesh Ambani, has already said it's interested in exploration blocks in Mexico.
"We're studying to see if we can partner with Pemex in producing fields," Sarraf said in a telephone interview. "Companies from all over the world will be looking at Mexico and there's going to be a lot of competition."
Mexico may be pivotal to Indian Prime Minister Narendra Modi's quest for energy security, after Chinese explorers beat the South Asian nation to some assets in Africa and Central Asia. Chevron Corp. and Exxon Mobil Corp. are among companies that will compete in Mexico, which permitted private investment in the oil industry in December to help reverse a decade-long slump in output.
Pemex Plans
Energy investment in the North American country may more than double to $55 billion a year as companies explore and produce 115 billion barrels of crude equivalent of prospective resources, according to Pemex Chief Executive Officer Emilio Lozoya. Those reserves are comparable to three and a half years of global oil consumption, according to BP Plc data.
Pemex plans to establish 10 joint ventures in mature, onshore and offshore areas by December 2015, Lozoya said.
The state-owned company won rights this month to all the proved and probable oil reserves it sought for development as a part of Round Zero, as the non-competitive awarding of fields was known. It retained fields holding an estimated 20.6 billion barrels, enough to maintain production levels of at least 2.5 million barrels a day for the next 20 years, according to Mexico's Energy Minister Joaquin Coldwell.
India's oil purchases from Mexico have risen 161 percent in the last five years to 4.94 million metric tons, or 98,800 barrels a day, Oil Minister Dharmendra Pradhan said in parliament Aug. 4.
One Foot In
"India has a foot there already because a substantial portion of Mexican oil goes to India," said Andrey Kryuchenkov, an analyst at VTB Capital in London. "The concern is India won't be the only one going there."
ONGC has for years lost out to Chinese competitors. In 2013, it missed a $5 billion bid to buy an 8.4 percent stake in Kazakhstan's biggest oilfield after the government exercised its right to step in and purchase it in place of the company. The Central Asian country then sold the stake in the Kashagan field to China National Petroleum Corp.
A joint offer by ONGC, Indian Oil Corp. and Oil India Ltd. to buy a 33 percent stake in London-based Tullow Oil Plc's Ugandan exploration interests failed as the consortium was outbid by China's Cnooc Ltd. in 2010.
New Delhi-based ONGC had some success with acquisitions last year, spending a record $5 billion on purchases. In August last year, ONGC agreed to pay Anadarko Petroleum Corp. $2.64 billion for a 10 percent stake in the Mozambique gas field. That followed a purchase of 10 percent in the same field two months earlier by ONGC and smaller state-run rival Oil India jointly from India's Videocon Industries Ltd. for $2.5 billion.
Better Destination
ONGC also won exploration blocks in Myanmar and Bangladesh this year and increased its stake in a Brazilian asset last year after blocking a bid by China's Sinochem Group.
As a majority owner, the government has been pushing ONGC and Oil India "to vigorously pursue acquisition of oil and gas assets overseas," Pradhan told lawmakers on July 23.
Reliance invested in three shale joint ventures in the U.S. in 2010 and has invested $7 billion in the ventures so far, the company said in a Aug. 20 stock exchange filing. It also has two blocks in Yemen, two in Myanmar and one in Peru, according to a investor presentation on its website.
"India should lap up all such opportunities around the world as its own oil and gas production has stagnated," said Kamlesh Kotak, Mumbai-based head of research at Asian Markets Securities Pvt. "Mexico is definitely one of the better destinations as it has big potential. Indian companies are already invested in that region and that gives them an advantage."
ONGC's shares have surged 45 percent this year and Reliance has increased 11 percent compared with a 25 percent gain in the benchmark S&P BSE Sensex.
Biggest Refinery
Reliance, operator of the world's biggest crude oil refinery, has 815.6 billion rupees ($13.5 billion) of cash and equivalents. It's biggest natural gas field in India, KG-D6 off the east coast, has not produced according to plan and output has been falling since in 2010.
ONGC has 108 billion rupees of cash, which has been dwindling for the past three years as it is forced by the government to sell its crude at a discount to state-run refiners. The bulk of the company's production in India is from fields that are more than 40 years old. It produces heavy oil from fields in the western state of Gujarat where the crude is first heated inside the wells and then pumped up to the surface.
"We've shown the technology in our own fields in India and we can use that in Mexico and elsewhere as well," Sarraf said. "That's a big leverage that we have."
Heavy Oil
Most of Mexico's known oil reserves are of the heavy variety, according to the U.S. Energy Information Administration. The oil is concentrated off the southern part of the country and inland in the north, according to the EIA.
India's oil output in the financial year ended March 31 was unchanged at 755,520 barrels a day, while gas dropped 13 percent to 35.4 billion cubic meters, according to oil ministry data.
The country spent $143 billion on crude oil imports in the 12 months, according to Pradhan, the minister. More than 61 percent of the oil was imported from the Middle East, including Iran and Iraq, making supplies vulnerable to conflicts.
"With what's happening geopolitically in some of the world's biggest oil producers, ownership of oil assets around the world is becoming even more important for India," said R.K. Gupta, managing director of New Delhi-based Taurus Asset Management Co., which oversees about $740 million. "Owning oilfields in countries like Mexico is going to assure supply and that's very important for India."
Before it's here, it's on the Bloomberg Terminal.
LEARN MORE