Economic Malaise Sparks Political Crisis in France
By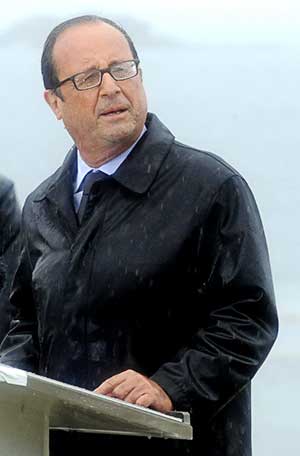 A heavy rain fell on François Hollande as he spoke in Brittany on the 70th anniversary of the liberation of Paris on Monday, leaving the French president with a drenched raincoat and fogged-up glasses. The weather is predicted to clear, but the forecast for Hollande's presidency is looking more and more ominous.
Facing an open rebellion within their ruling Socialist Party, Hollande and Prime Minister Manuel Valls dissolved the cabinet today and said they'll name a new government within 24 hours. They acted after Economy Minister Arnaud Montebourg accused the government over the weekend of bowing to the pro-austerity "obsessions" of German Chancellor Angela Merkel. Montebourg and others on the Socialists' left wing are speaking out against Hollande's plan to pare government spending and cut taxes on business—an approach that they say will further undermine France's stagnant economy.
Montebourg didn't give Hollande and Valls time to fire him; he announced today that he had resigned, in a speech blasting the government for "absurd" policies. Culture Minister Aurélie Filippetti said she'd also step aside, and some other ministers who've sided with Montebourg are likely to be replaced as well.
Yet the shake-up actually could make things worse. "The reshuffle will probably worsen the internal divisions" within the ruling party, says Antonio Barroso of Teneo Intelligence in London. Although the Socialists still have a majority in Parliament, "rogue deputies could start voting against some of the upcoming economic measures." Montebourg, meanwhile, will continue to speak out as he positions himself to run for president in 2017, Barroso predicts.
Divisions within the Socialists, along with Hollande's record-low 17 percent popularity rating in an Ipsos poll conducted last week, could make it increasingly difficult for him to govern. "One wonders what majority he will have to pass laws, notably the budget," scheduled to be voted on in the fall, Ipsos's Brice Teinturier told the FranceTV public television network. "The unhappiness is real and powerful."
Ironically, the debate over austerity in France is exploding just as European Central Bank President Mario Draghi is softening his position on budget-cutting. Speaking in Jackson Hole, Wyo., last week, Draghi expressed concern over slow growth in the euro zone, saying it was time to move to a "more growth-friendly composition of fiscal policies."
Hollande's problem is that he has moved slowly on reducing government spending—and now, with the economy sputtering, he's under intense pressure from euro zone neighbors to deliver promised deficit reductions. While Draghi sounded more dovish on austerity, he pointedly mentioned that he still expected European governments to proceed with enacting promised structural reforms, which France has been slow to deliver. "The French government would love to have the green light to spend more, but I doubt they'll get it," Michael O'Sullivan of Credit Suisse Private Banking, told Bloomberg News.
Hollande also has pledged to reduce taxes and regulations on employers that are seen as a drag on French competitiveness. Yet some earlier actions by his government are blamed for damaging the economy, including higher corporate taxes and a new real estate law that contributed to a steep slump in the housing market.
To enforce discipline within his party, Hollande might threaten to dissolve Parliament. That would lead to elections in which many Socialist deputies might lose their seats to center-right parties or the ascendant far-right National Front. Leaders of rightist parties are already clamoring for new elections. That scenario, though, would leave Hollande with scant leverage to win support for his programs. "The crisis is not over," constitutional scholar Dominique Rousseau said today in the newspaper Libération. "It's just beginning."
Before it's here, it's on the Bloomberg Terminal.
LEARN MORE