Earthquakes Cost More in Rich Countries but Devastate Poor Ones
by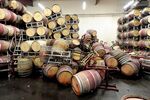 Northern California suffered its strongest earthquake in 25 years on Sunday, and although 120 people were injured, not a single fatality was reported. Meanwhile, the U.S. Geological Survey put initial estimates of economic losses at $1 billion. Both the low human cost and high economic cost illustrate constants in natural disasters: They are far more expensive—and far less deadly—in rich countries.
Earthquakes are more expensive in rich areas because there's more to break. A barrel containing $16,000 worth of pinot noir, for example, fell and smashed at Dahl Vineyards on Sunday. North America accounted for one out of six global catastrophes in 2013, according to an analysis by insurance firm Swiss Re. But it accounted for only 1 percent of the victims, compared with as much as 23 percent of the economic loss. (Perhaps of most interest to an insurance company: It accounted for 42 percent of the insured losses worldwide.)
The CATDAT database of damaging earthquakes lists more than 7,000 since 1900 with estimates of their economic and human cost. Again, in absolute terms, by far the most expensive quakes are in rich countries: The 1995 earthquake in Kobe, Japan, cost over $123 billion, compared with a mere $7 billion for the 2010 Haiti earthquake.
These impressive damage totals can obscure the fact that, in relative terms, economic costs of disasters are actually higher in the developing world. While there's more to break in wealthy countries, construction is far better—buildings have to meet earthquake—safety regulations, for example. In poor countries, a greater proportion of the existing infrastructure collapses in a quake. The CATDAT database suggests that in terms of economic loss as a percentage of gross domestic product, the vast majority of the top 35 earthquakes have been in developing, not developed, countries. Kobe's destruction was worth about 2.3 percent of Japan's GDP. The Haitian earthquake's devastation was worth more than that country's entire annual output.
Related to the greater risk of infrastructure collapse, quakes are yet another deadly condition that disproportionately impact the poor. Fatalities after the Haiti quake were 20 times the Japanese fatalities from Kobe. The CATDAT database suggests that all of the top 10 most deadly earthquake-related events in the last 100 years, which killed between 52,000 and 283,000 each, happened in developing countries. Four of those top 10 have happened since 2000: the Indian Ocean tsunami, plus the earthquakes in Haiti; Sichuan, China; and Kashmir, Pakistan. The creators of the database estimate that the average number of deaths per earthquake in the most developed countries in their sample is less than 50—compared with more than 450 in the countries with the lowest income, education, and life expectancy. Don't let the damage estimates fool you: To survive an earthquake with most of your loved ones and resources intact, it is far better to be in Napa Valley than Nicaragua or Haiti.
Before it's here, it's on the Bloomberg Terminal.
LEARN MORE