Burger King Looks to Ride Coffee Boom, Save on Taxes by Acquiring Tim Hortons
by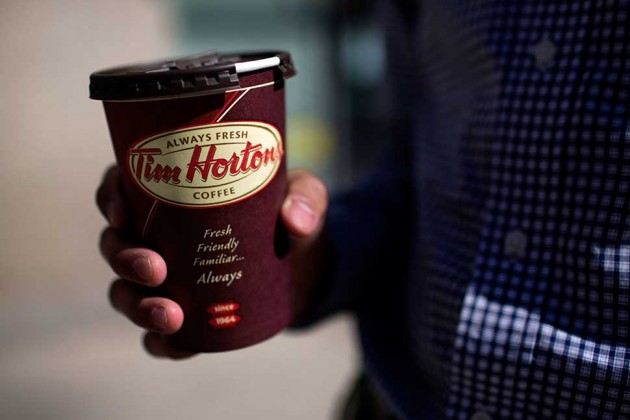 Burger King on Sunday night confirmed reports it is in talks to buy Canada's largest coffee-and-doughnut chain Tim Hortons. The new company would be headquartered in Canada, and the two chains would operate as separate brands.
Tim Hortons said in a press release that a key benefit of the combination would be the chance to take advantage of Burger King's global presence to speed its growth in international markets. Tim Hortons has 3,630 outlets in Canada, 866 in the U.S., and 50 in other countries. Burger King is much larger, with 7,371 restaurants in the U.S. and Canada; 3,556 in Europe, the Middle East, and Africa; 1,583 in Latin America; and 1,298 in the Asia-Pacific region.
A benefit to Burger King would be a lower tax rate. Canada's corporate tax rate is 26.5 percent, compared with 40 percent in the U.S., reported Bloomberg News. Burger King's effective tax rate is about 27 percent. The practice of merging with foreign companies to reduce taxes has been criticized by President Obama.
"Sounds like more of a paper transaction with the goal of lower taxes," says Darren Tristano, executive vice president at Technomic. "There is no indication that these two will find any new synergy beyond financial savings which has been Burger King's intent for the last four years."
Burger King's finances have changed considerably since the company decided to sell almost all of its restaurants to franchisees a few years ago. Now all but 52 of its 13,808 restaurants worldwide are franchised. Franchise royalties and fees and property revenue now account for about 92 percent of Burger King's sales, and that's almost all profit. Thanks to its franchising model, Burger King's overall gross profit margin was 88.9 percent last year; profit margin at its company-owned restaurants was 12.3 percent. Tim Hortons is also nearly all franchised, with only 18 company-owned locations, although its gross margin is lower.
If the deal goes through, the new company would be the world's third-largest fast-food restaurant company, with about $22 billion in sales and more than 18,000 restaurants in 100 countries, according to Tim Hortons.
Before it's here, it's on the Bloomberg Terminal.
LEARN MORE