Real Madrid's James Rodriguez Inspires as Colombians Go
Charles Penty and Alex Duff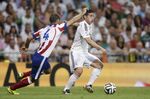 Freddy Upegui, a Colombian moving truck driver in Spain who's been out of work for two years, is scraping together funds so that he can buy a Real Madrid soccer shirt with the name of his idol James Rodriguez on the back.
"As soon as I have the money I'm going to buy that shirt and try to see him play," said Medellin-born Upegui, 39, who has been in Madrid for 17 years and now makes money selling snacks such as Colombian-style fried cheeseballs called "bunuelos." "He's showing that Colombians can make their way in the world and become the very best at anything."
Rodriguez, who could make his Spanish league debut tonight in Real Madrid's home match against Cordoba, is a symbol of a newly confident Colombia that reached its first World Cup quarterfinals while its economy is the fastest-growing in Latin America, said Fernando Carrillo, the country's ambassador in Madrid. The soccer success contrasts with the challenges still facing Colombians and other immigrants in Spain as the country emerges from a six-year economic slump.
"There are people that bet everything on coming to Spain and then end up at the consulate in Spain asking for a ticket home to Colombia because they can't last another day here," said Nino Gaviria, projects director at America Spain Solidarity and Cooperation, a Madrid-based association supporting immigrant communities. "A lot of people have gone home."
Top Scorer
Real Madrid paid about 75 million euros ($99.6 million) to sign Rodriguez, the top scorer at the World Cup in Brazil with six goals, from Monaco after the tournament ended, according to El Pais newspaper.
Club President Florentino Perez has a 14-year policy of assembling big-name players such as Cristiano Ronaldo and David Beckham to boost marketing income. The club also signed standouts after the 2006 and 2010 World Cups.
The approach has helped make Real Madrid soccer's biggest club by sales since 2005, when it overtook Manchester United. As an emerging soccer talent from South America, Rodriguez is also Real Madrid's riposte to archrival Barcelona with its Argentine star Lionel Messi, Brazilian playmaker Neymar and striker Luis Suarez from Uruguay.
Rodriguez, 23, will also help the Spanish club get noticed in the U.S. because of the country's Hispanic population, Simon Chadwick, a professor of sports business strategy at the U.K.'s Coventry University, said in an e-mail.
Mother's Favorite
"He's the kind of boy mothers would want their daughters to date," he said. "In marketing and branding terms, this is good both for him and for Real Madrid."
Colombia traces its links with the club to Alfredo Di Stefano, who set a scoring record for the team and also played for the country during a four-year stint at the Bogota club Millonarios, Carrillo said in an interview. He first heard Rodriguez might be coming to Real Madrid when he spoke to club officials at the funeral of Di Stefano, who died July 7 aged 88.
When Real Madrid fans welcomed the midfielder last month, Colombians in their yellow national team shirts stood out in a crowd estimated at 40,000, the ambassador said.
"James is a young player who is going to be an icon at Real Madrid for a long time," he said. "He has broken the mold and is helping to show Colombia in a positive new light without stigmas."
Power Statement
Rodriguez was born in Cucuta, Colombia, and has played at clubs including Portugal's Porto and Monaco, where he featured alongside another Colombian star, the striker Radamel Falcao. Falcao had to sit out the World Cup with a knee injury.
"His acquisition is, as usual, a statement of economic, financial and market power by Real," Chadwick said. "James as a brand is something new and different -- he's not the raw macho sex of Ronaldo, nor is he the cool family man that was Beckham."
While expectations are high among Colombians for his arrival, Rodriguez will be donning the No. 10 shirt at Real Madrid as many countrymen pack their bags to return home or seek better economic prospects elsewhere in Europe, Gaviria said.
Colombians contributed to a 0.5 percent decline in Spain's population in 2013 as about 51,000 dropped off official lists of residents in the country, leaving a registered community of 172,368, according to the National Statistics Institute. The 23 percent reduction in the Colombian population was the biggest of any major group apart from the smaller Peruvian community, which shrank 24 percent.
Spanish Citizenship
The decline is partly due to Colombians acquiring Spanish nationality and therefore disappearing from official lists of foreigners, Carrillo said. He estimates that 400,000 Colombians may have taken Spanish citizenship in the past 15 years.
"There is a generation of new professionals that are increasingly well integrated and educated," he said.
Even so, many Colombians and other immigrant groups that arrived in Spain lured by jobs created in the country's decade-long housing boom suffered after the bonanza ended in 2007, Gaviria said.
The unemployment rate for Colombians in the Madrid region was 36 percent in 2013 compared with 31 percent for Romanians, the biggest immigrant group, according to a survey carried out by the regional government. About 45 percent of foreigners living in Madrid earn between 601 and 1,000 euros a month, the survey said.
In Colombia, the central bank predicts the economy will expand about 5 percent this year compared with Spain's 1.5 percent growth estimate. Unemployment in Colombia, which declared independence from Spain in 1810, may be about 9 percent this year compared with 25 percent for its former colonial master, according to Bloomberg surveys.
At his presentation at the Bernabeu stadium, Rodriquez told Real Madrid fans that playing there was a "dream come true."
"I admire him," said Mauricio Angulo, 46, a Colombian who has been in Spain for 23 years and lost his job as a restaurant kitchen assistant three years ago. "It takes hard work and talent to reach the very top and it's great to see a Colombian get there."
Before it's here, it's on the Bloomberg Terminal.
LEARN MORE