Yellen: Rates Will Stay Low Even After QE Ends This Fall
By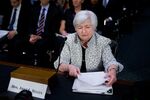 Federal Reserve Chair Janet Yellen pretty much said what people expected her to say this morning in her speech at the Fed's annual Jackson Hole symposium: There is still a surplus of labor, the economy is healing but is not healed, quantitative easing is essentially over, and rates will sooner, or later, go back up.
Here's the 3,600-word transcript. As expected, Yellen focused predominately on the state of the labor market. The speech reinforced her clearly dovish view that there is still a lot of slack out there or, in her words, that "underutilization of labor resources still remains significant" Given time and low rates, Yellen is essentially betting that companies will hire more and more of the long-term unemployed without sparking too much inflation. Hawkish economists increasingly think the Fed has done about all it can to claw these people out of the ranks of the jobless.
Yellen admits that assessing the amount of slack in the labor market "has been especially challenging recently." The ultimate question is whether the continued high rate of employment is a sign of continued weakness that can be fixed, or if it has hardened into a more structural state that will now be the new norm. In other words, how employable are those 9.7 million people looking for work?
Yellen's task is to decide which of the Fed's dual mandates is more important—lowering unemployment or keeping inflation in check. Clearly she believes lowering unemployment is the more important task, and that in doing so the Fed is willing to risk a little more inflation.
This was Yellen's first speech at Jackson Hole since becoming Fed chair. Held every summer since 1978, the symposium has historically been an academic exercise. But since the recession, it's become something of a market event, with investors paying special attention to the chairman's keynote speech. As Simon Kennedy points out, for most of the past seven years, the chairman's speech at Jackson Hole has proved to be a buying signal for stock investors.
That was especially true two years ago at Jackson Hole, when Fed Chairman Ben Bernanke set the stage for what ended up being QE3, announced late in 2012. Back then the Fed vowed to keep rates near zero as long as unemployment remained above 6.5 percent. It's now 6.2 percent, but much of that decline has come as a result of people leaving the labor force, either out of frustration or because they retired.
Still, Yellen says all you need to know toward the end of her speech: "It likely will be appropriate to maintain the current target range for the federal funds rate for a considerable time after our current asset purchase program ends."
So expect rates to remain low even after the Fed stops buying bonds sometime around October of this year.