We'll Be Back Monday, Unless We Decide Against It: Opening Line
C. Thompson and Laurence Arnold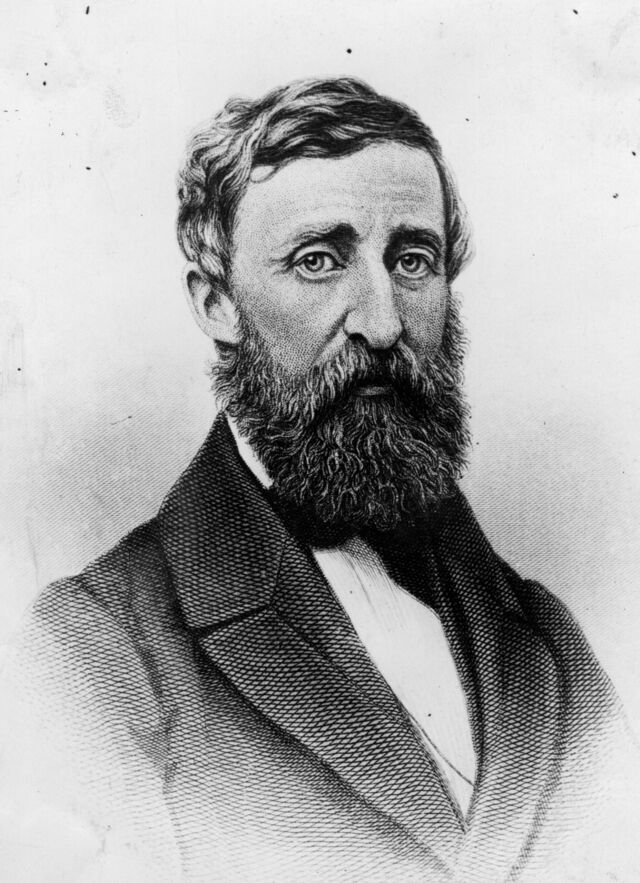 The cicadas are so loud these days that they leave a ringing in your ears after you step back inside and shut the door. It's coming on those last couple weeks of summer, summer as we operate it, and there will be kickoffs soon, so it may be one last chance to get away from it all.
What does that mean to you? Out to the Hamptons or up to Cape Cod or the Berkshires? Down to the Jersey shore or, for some of our wealthier readers, something a little more exotic?
Often during a visit to one of these places we seek, in many cases perennially, and usually either on that first occasion when the perfect moment arrives or at the last, you may ask your companion or yourself, "What if we never went back?"
But you always do. We always do.
Once in a great while, though, with the approximate frequency of a snowflake that does, in fact, turn out exactly like another, someone does not go back. They check out, and they mean it.
We're not talking about the nut-jobs, or the government-paranoid off-the-gridders who load up on bottled water and high-powered rifles and wait for the law to get within range. We mean the people for whom the daily rotisserie is too much.
If you've watched PBS during fund drives, you've probably come across the faded colors of the home movies that became "Alone in the Wilderness," documenting Dick Proenneke's (level-headed) withdrawal to a lakeside log cabin he built by hand. Or you've read Jon Krakauer's "Into the Wild," the account of a less-balanced young man named Chris McCandless who had not done the homework.
The first seduction for us was in grade school, after reading a book titled "My Side of the Mountain." It's the story of a teenage boy who ran away from his New York City home and lived in a tree hollow in the Catskills. Coupled with the indoctrination into the forest ways from our time in Boy Scouts, the allure of a refuge was immediate. No need to go into why.
This kind of dream never dies. Those who share it will back that up. There's a far-away part in everyone who has it.
Thirty years ago it was Montana, 20 years ago it became Alaska, and after a particularly bruising moment in life not that long ago, we were almost there. A couple of Alaskan newspapers were interested in providing a landing place. A disappearing act was in the offing before the winds pushed us back to shore.
The winds never came for Christopher Knight, the North Pond Hermit, who was arrested last year, finally, after 27 years living in the woods of central Maine, living on his own terms -- although those terms involved thievery -- and wearing the same glasses he had in high school.
The riveting profile in GQ magazine, by Michael Finkel, is this weekend's must-read, piecing together nine hours of jailhouse interviews and many handwritten letters to reveal a man who knew exactly what he was doing, even when the normal world that spun around him could not comprehend it.
Henry David Thoreau, who lived on Walden Pond for two years, said "Most men lead lives of quiet desperation." Knight calls Thoreau a dilettante.
Knight's love of literature and forced dependency on junk food and on burglary, his calculations and introversion and, in the end, his deep shame and despair at being back among the living, are described in haunting simplicity, and the only time in Finkel's piece that you think he was nuts is his choice of music.
"They will be playing Lynyrd Skynyrd songs in a thousand years," he says.
Take it to the beach with you, or to the woods, but if you're near the breaking point in the rat race, where hedges in your life aren't green and leafy but leaning away from your position, and you are wondering what you even mean to yourself, leave a trail of breadcrumbs as you go.
Or save them for when you get to where you're going.
***
There are no U.S. economic indicators today.
U.S. earnings are light, but heavy on apparel, with Foot Locker, Hibbett Sports and ANN, owner of Ann Taylor and Loft women's clothing stores.
***
- Russian trucks carrying "humanitarian aid" to eastern Ukraine have started rolling, apparently without Ukraine's permission. - Don't even think about it, U.S Judge Thomas Griesa says to Argentina. - GM's legal department is being investigated for concealing evidence about the faulty ignition switches, the Wall Street Journal reports. - Yellen and Draghi speak at the Jackson Hole conference starting at 10 a.m. EDT. - Also GM: The company plans production halts in Russia, starting today. - Florida's ban on same-sex marriage ruled unconstitutional by federal judge who then delays implementation of his ruling. - California attorney general to appeal federal court's ruling declaring its death penalty system unconstitutional. - Family Dollar would consider Dollar General's buyout offer if the bidder agreed to sells as many stores are regulators demanded. Just wait until this wave hits the 99-cent stores. - The Pentagon broke the law in the Bergdahl prisoner swap, the U.S. GAO says. - Canada's government bans scientists from releasing results of government-funded research into rapid loss of Arctic ice. - Widodo's election as Indonesia's president survives court challenge. - Top Gear host Jeremy Clarkson's act is starting to wear thin with the BBC. - Human vision reaches into the infrared part of the spectrum, according to an article we don't understand. - Venn diagram goes wrong at Reuters. - First George W. Bush nominates Bill Clinton to the ice-bucket challenge, now Marco Materazzi is nominating Zinedine Zidane. What is this, National Brotherhood Week? - The greatest line every Simpsons character ever delivered.
***
If the prospect of watching the James Foley beheading video even once makes you light-headed, imagine the task facing those who are now trying identify his killer.
You'd assume there's not a lot to work with, because he was disguised. Reports indicate he spoke with a British accent, and already some educated guesses about the specific region his accent represents are emerging.
Beyond the accent, though, lies information that the video can provide. Visual clues like weather conditions, the angle of the sun and shadows can help investigators narrow down the location. After that, high-tech wizardry takes over, according to David Lerman, Michael Riley and Robert Hutton.
With a rough date and time, the digital fingerprints reveal themselves in metadata -- remember that term? -- collected by intelligence operations in the U.S. and U.K., which is leading the hunt.
Throw in analysis of the voice recording, comparing it to other videos, statements and social media postings, as well as perusing records of travel and border crossings and the length of stays, and you figure the guys at the NSA and MI5 should be able to come up with some leads.
But first it starts with watching and listening to that video, probably more than once. Some people have some rough work ahead of them.
***
Does Google giveth or does Google taketh away?
The expanding technology sector in Pittsburgh is wrestling with the question amid complaints that the 800-pound gorilla of the industry, which set up shop there in 2005, wields a disproportionate influence on hiring, wages and, in general, the ability of startups to compete.
The best talent is going to Google, which pays more and offers more perks Paul Glader reports for Bloomberg Businessweek.
Yet the same could be said pretty much anywhere Google has an office and there are computer engineers looking for work, we'd guess. The same was probably true a hundred years ago: Would you rather work for U.S. Steel or "Joe's Boutique Blast Furnace"? The latter is a plucky little foundry that has more modest ambitions for now and more limitations on what it can pay you, or you can work for J.P. Morgan (the guy, not the bank) and Andrew Carnegie. Your call.
Moreover, would there even be a tech industry in Pittsburgh in such health if Google weren't there? There's probably a fair amount of spillover and attraction from its mere presence, like having an anchor store at the mall.
Last thought: There's a tech industry in Pittsburgh?
***
Those American urbanites who believe we have gone two-wheel crazy, our roads having been taken over by ''shared" bicycles, may benefit from some global perspective.
The bike-sharing boom, still in its infancy, is booming the most in Asia, which has surpassed even the European cities that gave birth to the idea, Flavia Krause-Jackson reports today. Bicycles are available for public use in more than 600 cities in 52 countries.
Washington-based MetroBike LLC says on its blog that 2014 has been "a slow growth year" for bike-sharing in North America, due mostly to government reluctance to spend public-transit dollars on bicycles.
Reading about bicycles made us think about trains -- specifically, the familiar question about why intercity passenger rail travel is so rare (and grindingly slow) in the U.S. compared with Europe and Asia. Americans have tended to like suburbs and sprawl over hyper-dense city living, making cars and air travel the preferred forms of travel.
China, by contrast, offers bullet trains that reach 250 to 350 kilometers per hour (155 mph to 217 mph) hour and -- for those willing to travel a tad slower -- an estimated 650,000 public bicycles.
***
With PG-13 reigning at theaters, thanks to "Teenage Mutant Ninja Turtles" and "Guardians of the Galaxy," the arrival of an R-rated, sexy, violent noir film is cause for notice.
"Sin City: A Dame to Kill For" is a sequel nine years in the making. The 2005 original, "Sin City," based on the Frank Miller comic book and starring Clive Owen, Jessica Alba, Mickey Rourke and Bruce Willis, had some box-office success. The trailer for the sequel is a beguiling mix of CGI trickery, driving music and pretty faces both male (Josh Brolin) and female (Eva Greene, who plays the drop-dead dame).
At Forbes.com, Scott Mendelson, who was 25 when the original film was released, notes, "The problem with waiting this long for a sequel to a project that was a cult favorite among high school/college audiences is that the members of the cult are now adults with jobs and families and priorities beyond seeing the next installment of something that very much requires a babysitter."
For those looking for more PG-13 options, also opening is "If I Stay," which treads the familiar ground -- limbo, between life and death -- previously covered by good movies ("Ghost") and forgettable ones (the Zac Effron vehicle "Charlie St. Cloud").
If nothing else, the trailer makes us regret not sticking with the cello, and vow never to drive a winding country road in the snow.
***
Congratulations to the kids from the Great Lakes region, the team from Chicago's Jackie Robinson West, who punched their ticket to the U.S. championship game of the Little League World Series tomorrow with a 6-5 win last night over the Taney Dragons from Philadelphia.
Chicago plays Las Vegas for the right to meet the international champion; Japan meets South Korea in that title game tomorrow also.
Congrats as well to the Philly kids and their sorceress on the mound, Mo'ne Davis, for putting a little extra fun into this year's edition of the best display of sportsmanship available in U.S. sports.
You didn't really think a team from Philadelphia was going to win, did you?
Pfff. Suckers.
Before it's here, it's on the Bloomberg Terminal.
LEARN MORE